I'm often known for having a birthday week, or even a birthday month if I can get away with it, as it's always fun to celebrate! This year has been a particulaly strange birthday, socially distanced from family and friends, so I decided to make myself a big birthday celebration cake for us to enjoy! While eating a large portion of it myself, I also delivered it to friends and family members too. And of course, my biggest foodie fan Louis (Theroux), my cockapoo, was desperate for a taste. He seems to creep into a lot of my photos lately!
This recipe can easily be adapted to suit whoever is celebrating, you can change the colour of the cake itself, choose a different coloured drip, you could add jam and of course you can top it whatever sweet treats you fancy. For my own, I'm a big fan of white chocolate so I used white chocolate jazzies (gluten free versions can be found in Asda), along with white chocolate buttons, white chocolate stars, multi-coloured sprinkles and of course a dusting of glitter!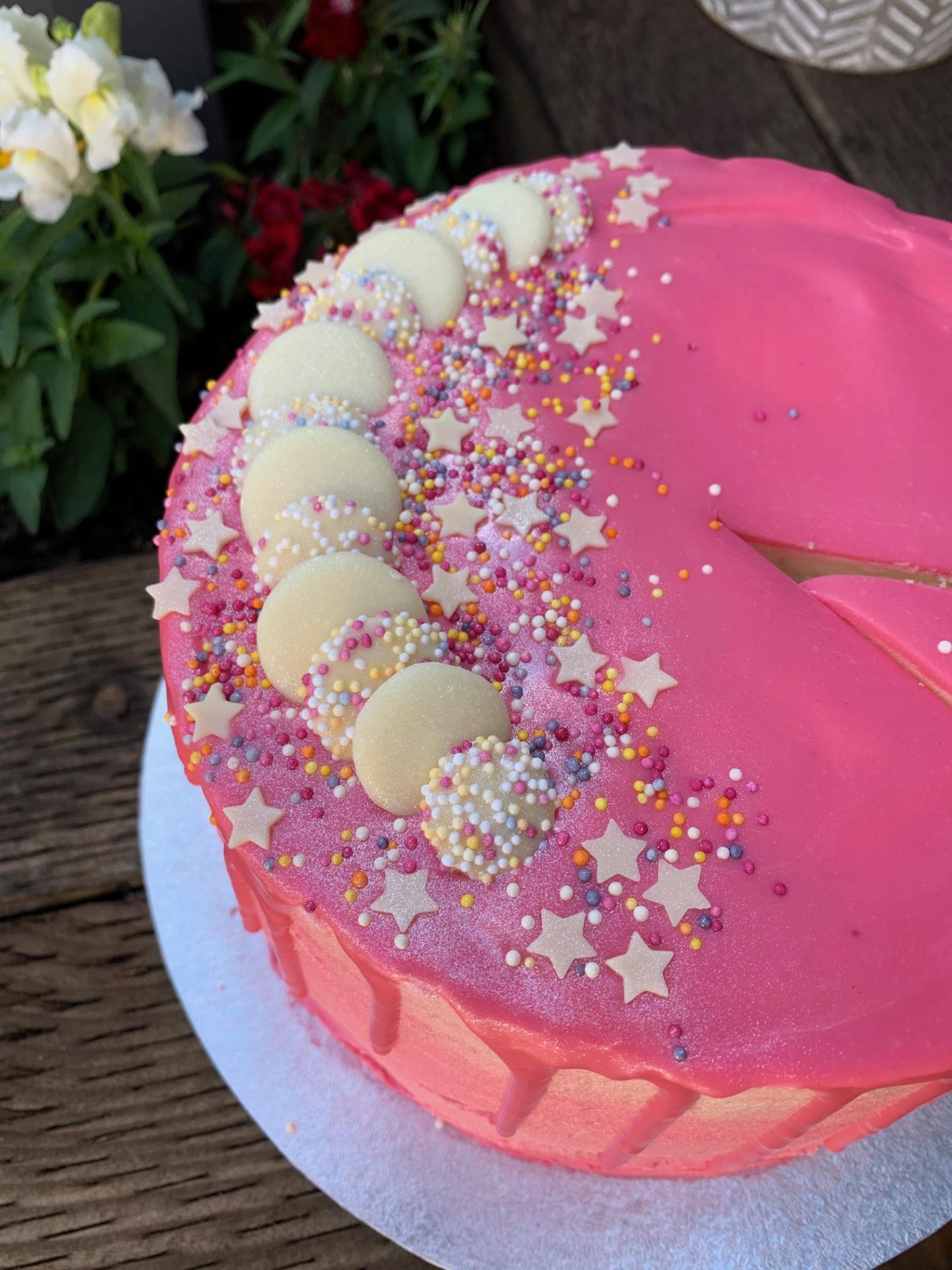 Despite it's enormity, this cake was actually quite easy to make, as long as you follow each step. The most stressful part was the drip as I've made one before which went very thick and made the cake, that I'd spent the best part of a morning baking, look pretty awful! I also invested in some stronger food colourings, an icing scraper, a sauce bottle (for the drip) and an icing turntable.
Gluten Free Celebration Drip Cake
Ingredients
For the cake
400 g Butter (I used the Pure dairy free baking spread)
400 g Caster sugar
400 g Gluten free self-raising flour
8 Eggs
2 tsp Baking powder
For the icing
400 g Icing sugar
150 g Butter
Gel food colouring (I used a bright pink, colourings linked above)
For the drip
75 ml Whipping cream
175 g White chocolate
Gel food colouring
Chocolate, sprinkles, sweets, glitter to decorate! (Options linked above)
Instructions
Preheat the oven to gas mark 4 or 180 degrees.

Grease and line three 20cm sandwich tins (if you only have two, you will need to reuse one).

In a large bowl, beat together the butter and sugar, then gradually fold in the eggs, self-raising flour and baking powder.

Continue to fold until it forms a smooth cake mixture. Pour into the three tins ensuring each has an even amount. Smooth the top with a spatula.

Bake for 25 minutes. Leave to cool on a wire rack.

Prepare your icing by mixing the icing sugar and butter together until smooth.

Before adding any colouring, use the icing to build your cake. Place a small amount on the cake board to prevent the cake from sliding, and add the first layer. Spread the icing across the cake (optional – add jam), then repeat with the two remaining layers. Spread a thin layer of icing around the sides so that the entire cake is covered with buttercream.

Using your remaining buttercream, add a small drop of food colouring to make a pale pink. Spread this onto the cake (I used a lighter pink at the top). Then add more food colouring and begin spreading this onto the cake. Use the icing scrapr to ensure a clean, smooth finish. I finally added random dots of colour and spread these into the cake with the scraper to give a slightly tie-dye effect.

Place the cake in the fridge to cool.

Prepare your cake drip by placing the whipped cream in a jug in the microwave for 20 seconds. Add the white chocolate (in small chunks) to the cream and microwave for a further 50 seconds.

Stir the mixture and return to the microwave until the white chocolate has completely melted. Add food colouring of choice.

Leave to cool for 5 minutes or so, until the consistency is slightly thicker (as the chocolate cools).

Using a sauce bottle or teaspoon, carefully test the drip on the edge of a mixing bowl. Once it has reached the desired consistency, drip onto the edge of the cake, then spread across the top.

Add your decorations (sprinkles, chocolate, sweets, glitter) then return to the fridge to set.

Remove from the fridge, slice and celebrate!
As always, let me know if you give this recipe a try, I'd love to see your celebration drip cakes! I don't know if you've found this, but there always seems to be so many birthdays in May and June, I don't know if it's just my family and friends, but I'm definitely going to be busy baking in the next couple of weeks or so! I'll share more celebration cakes as and when I make them, I can't wait to try different toppings or flavour combinations, watch this space!
I hope you've enjoyed this post, and if you liked making this cake, you may also like to try my classic Victoria Sponge or my Easter Surprise Cake (although this could be filled with any sort of chocolate sweet – not just mini eggs!)
Happy baking (& celebrating!!)
Alice x

(P.s. I'm now 29 – which is far too close to 30, help!)