I love a brownie, I love a bakewell tart (or a cherry bakewell), and I love white chocolate. Put them all together and what do you get… A delicious, gluten free and low FODMAP Bakewell Blondie. I'm so pleased with this recipe, it's taken a while to perfect as they started a little cake-y, but the recipe below makes a fudgy blondie, packed full of those well-known almond enriched bakewell flavours.
The recipe makes 9 blondies, and are Low FODMAP at 1 serving (1 blondie). I've found that taking the blondies out of the oven slightly early (with a very slight wobble in the mixture) creates the best texture and prevents them from going cake-y. Make sure you leave them for a long time to cool before cutting into individual blondies, even though it's tempting to dive straight in!
Gluten Free Bakewell Blondies
Ingredients
200 g Butter
125 g White granulated sugar
130 g Light brown sugar
2 Eggs
1 tbsp Cornflour
200 g Gluten free plain flour
1 tsp Almond extract
65 g Ground almonds
150 g White chocolate chips
200 g Seedless raspberry jam
30 g Flaked almonds
Instructions
Preheat your oven to 180 degrees Celsius or gas mark 4.

In a large pan, gently heat the butter. white granulated sugar and light brown sugar until the butter melts and forms a smooth mixture.

Add the eggs and almond extract and beat until combined.

Fold in the gluten free plain flour, cornflour and ground almonds until smooth, then add the white chocolate chips and stir well.

Pour the blondie mixture into a square, 20 x 20 cm lined tin. Randomly spoon the jam on top and swirl gently.

Sprinkle the top with flaked almonds and bake for 25-30 minutes.

Leave to cool before slicing into individual blondies.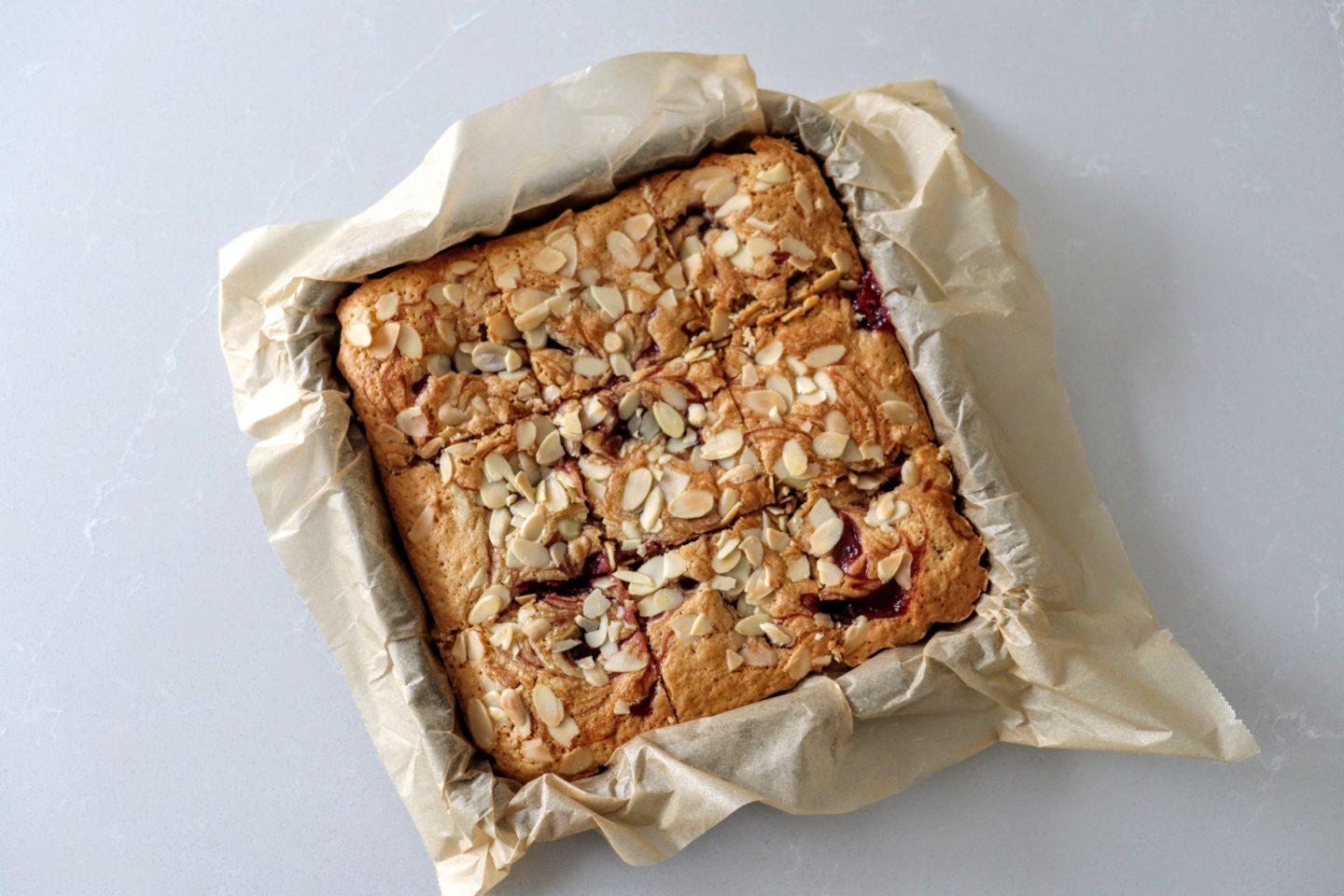 As always, I hope you enjoy this Low FODMAP, gluten free recipe. If there's any particular recipes you'd like to see next, please let me know! I'm looking for ways to help others follow the Low FODMAP diet and continue to enjoy food, while keeping our guts content!
If you've enjoyed this blondie recipe, you must try my brownies – they are epic! I'll link the recipe here.
Happy baking,
Alice x