I make this recipe at least once a fortnight as it's super easy, it only requires basic ingredients and it tastes so delicious. King prawns are so versatile, they go with practically everything. I regularly buy frozen ones to add to curries, stir fries and, of course, this risotto! This recipe uses frozen raw king prawns from Sainsbury's, they're so big and juicy, I'd definitely recommend giving them a try for this recipe.
The recipe below serves 2 people, however you can always make a bigger portion using more prawns and risotto rice.
When I first started making this recipe, I never used to add parmesan as I thought the idea of cheese with prawns was just a big no, however, I now cannot make it without it! It adds so much flavour and brings the dish together. I'd definitely recommend it. If you can't get on board with it, I'd add a good squeeze of lemon instead for a fresher taste.
For this recipe you will need a Low FODMAP vegetable stock. I always buy Massel 7 stock cubes from Amazon as they come in three flavours, and are all Low FODMAP. Bay's Kitchen also make a jar of refrigerated stock if you prefer.
King Prawn Risotto
Ingredients
200 g Arborio risotto
1 tbsp Garlic-infused oil
1 tsp Chilli flakes
175 ml White wine
225 g King prawns
90 g Cherry tomatoes
5 g Parsley
600 ml Vegetable stock (low FODMAP)
75 g Parmesan
Instructions
In a large pan, heat the garlic-infused oil and add the arborio rice and white wine.

Bring to a gentle boil and simmer.

Gradually add the vegetable stock, one ladle at a time, while stirring the risotto rice. As each ladle is absorbed by the rice, add another. This can take about 20 minutes until the rice is cooked. 

Once the rice begins to expand, add the cherry tomatoes and chilli flakes.

Once the rice is almost ready to serve, add the raw king prawns and stir until they turn pink (approximately 6 – 8 minutes).

Add the finely chopped parsley and parmesan and stir well. Serve topped with leftover parsley.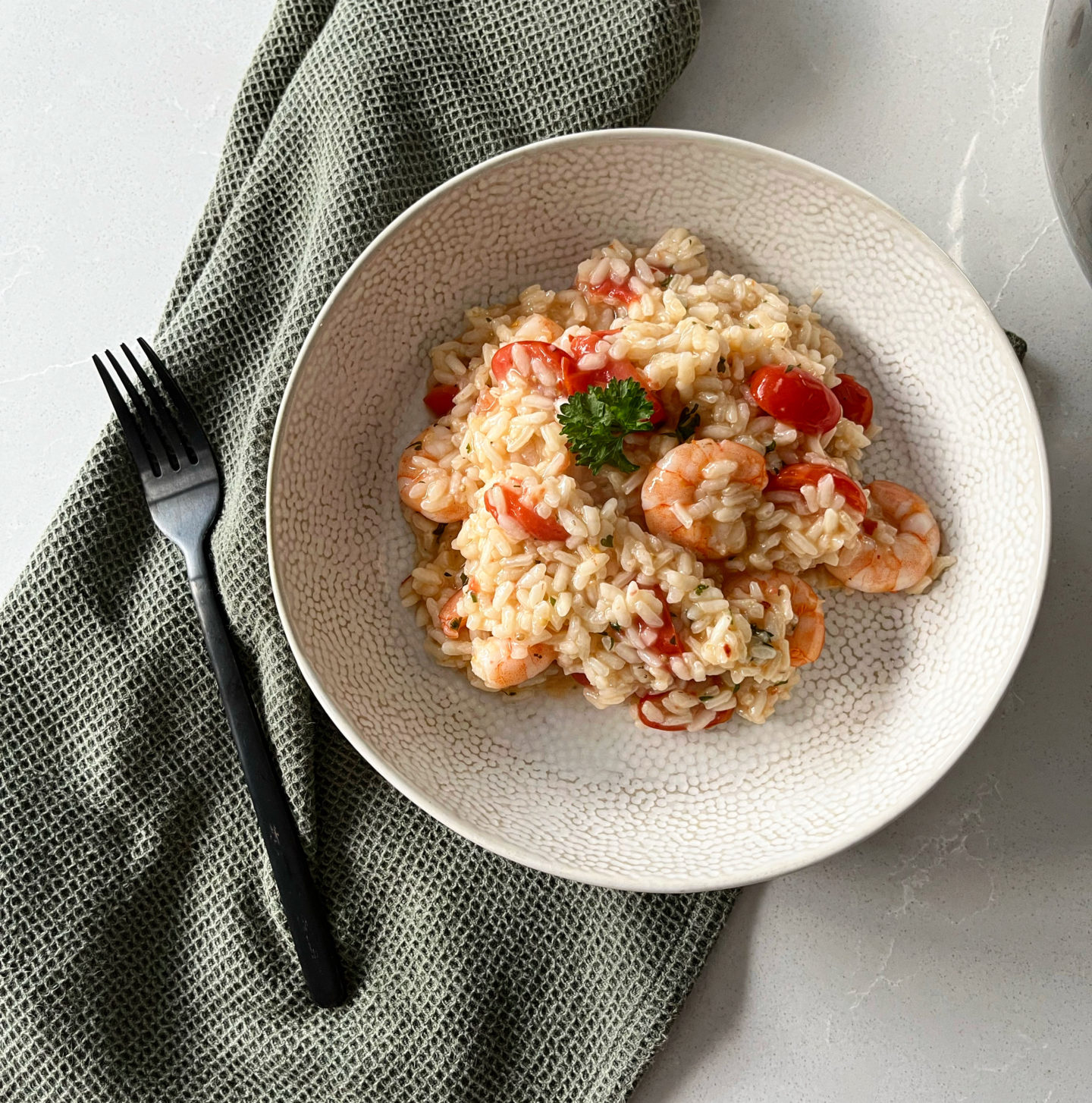 I hope you enjoy this Prawn Risotto as much as I do, and it becomes a weekly regular. It's a relatively cheap meal, especially if you are able to source the prawns from Aldi or Lidl to save a little money, and most importantly, it's a tasty Low FODMAP dinner.
Let me know if you give it a try, and whether you're pro-parmesan, or prefer it without! Each to their own…
Happy cooking,
Alice x