As I become more confident in finding low FODMAP products, and increasingly aware of how my body reacts to certain foods, I thought I would share some of my FODMAP finds and staple foods for following the low FODMAP diet for IBS. While there seems to be an increasing number of food options available, I still feel there is some way to go in finding healthy, yet tasty alternatives to gluten/wheat and dairy products – especially – for the higher prices asked for them. Despite this, there are some great alternatives that allow IBS sufferers to continue to enjoy food!
When I first read through the list of high FODMAP foods printed by my GP at the early stages of my diagnosis, I was quite concerned at what I was actually going to be able to eat. The doctors seemed to have little knowledge about the low FODMAP diet despite prescribing it and recommended it to me alongside a selection of tablets. I trialled three different tablets before coming to my own realisation that they made no difference, and that changing my diet was the best way forward.
When faced with the long list of restricted foods, I was really concerned as I love to eat out, and having recently been diagnosed with a nut allergy (and given an epipen) it means I have quite a long list of foods to avoid. First of all, I cut out all the obvious foods, such as apples and pears from my diet. It's funny that fruit is the easiest to give up! I basically ruled out anything I rarely ate, or didn't particularly like as this was easy, and made me feel like I was doing a grand job! I often referred to the Monash list of foods and restricted these where possible. I then went in search of gluten alternatives – I was aware of the other options, but thought it was a fad and didn't think it would actually make a difference, as let's face it, I can eat a large dominoes when I'm hungover and I'm fine… right? Wrong… As soon as I cut out gluten I felt so much better, once I'd become confident in identifying exactly what gluten was of course.
Since then I've completely removed onion and garlic from my diet as this made me feel like a new person! I no longer have prolonged periods (up to week) of feeling sick, bloated or suffering from excruciating cramps. I've also switched to lactose free products and cut back on the amount of dairy I consume. My favourite FODMAP friendly products are as follows, and often form the basis of my weekly shop…
1. Garlic infused oil
Since cutting out garlic from my diet, I have noticed that food often tastes bland. Finding out that garlic infused oil is FODMAP friendly has been life changing! It has improved a number of meals and recipes, particularly homemade pesto, as well as pasta sauces and curries.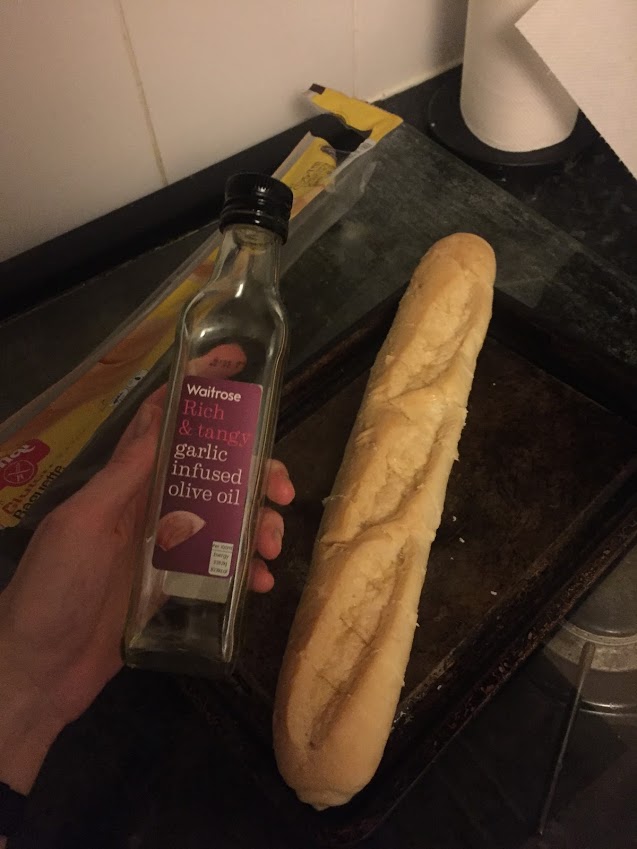 I can pretty much add it to all my recipes for FODMAP friendly flavour. Make sure when you buy this that the oil doesn't contain any garlic and is just infused. I've found suitable oils in Asda, Waitrose and Tesco (costing around £2). Currently I haven't found suitable alternatives in Aldi or Sainsbury's as these actually contain garlic.
2. Gluten free bread
My two favourite loaves are the Warburton's gluten free tiger loaf and the Genius gluten free toastie bread. Both of these have improved the taste of many Saturday brunches, and I alternate buying them on a fortnightly basis. Aside from loaves, I also love the Schar baguettes and burger rolls available, as well as the BFree pitta breads and wraps (be careful though as the BFree range sometimes have hidden FODMAPs such as inulin and apple juice, so these wouldn't be suitable during elimination phase) – perfect for low fodmap lunches.
3. Nairn's Oat Biscuits
With a selection of flavours, these gluten free biscuits are perfect on the go, or for a mid-morning snack. My favourites are the ginger, blueberry, golden syrup or chocolate flavours. They are reasonably priced too with four snack size packets of biscuits for just under £2.
 4. Gluten free pasta
There are a number of gluten free pasta brands on the market, however I am pretty happy with Sainsbury's own brand of free from pasta, which comes as penne, fusilli, macaroni, tagliatelle and lasagne sheets. These are essential in my weekly shop for recreating my favourite Italian dishes. See my previous posts for low FODMAP recipes for Macaroni Cheese, Roasted Vegetable Lasagne, Quorn 'Meat' Lasagne and Crab Spaghetti . I have tried other brands, but as the Sainsbury's free from range is reasonably priced, I tend to stick with these.
 5. Lactose free milk, cheese, cream and yoghurt
The recent arrival of Arla's lactofree range in supermarkets has made it relatively easy for me to cut down on lactose and reduce the number of fodmaps in my diet. The milk tastes nice too and lasts a little longer than normal milk. I'd also recommend the mild lactofree cheese as it is smoother than the mature version which unfortunately I found a little gritty!
The cream and yoghurt are essential for low FODMAP curry making (check out my Spinach & Chicken Balti recipe on the blog!), I've also used them for carbonara, homemade tzatziki, and for making FODMAP friendly smoothies.
6. Porridge oats
As many of the gluten free breads are only suitable on 
the low FODMAP diet in small portions, I often have lots of oats for breakfast or make my own gluten free oat biscuits to snack on to save money (see my recipe for my 
Cinnamon Oat Biscuits
,
Lemon & White Chocolate Biscuits
 and 
Dark Chocolate Flapjack
also on the blog!) Overnight oats has recently become a food fashion, however if, like me, you've no idea what that even means or how to make them, then you can stick to classic porridge, then top it with some fancy chia seeds, cacao nibs and banana to make it instagrammable (surely that's a word?!?) I would definitely struggle if I couldn't have oats!
7. Pizza Express Margherita Pizza
Having one of these in the freezer at all times is a MUST. Not only is it the most delicious gluten free pizza available (beating all takeaway/restaurant options in my opinion), it is also perfect for dinner emergencies (for example the other day I went to make a casserole and the beef had gone off –  despite being within the use by date – and it's very difficult to come up with a low FODMAP back-up dinner without specific ingredients in, and the time to cook!) This pizza can be found currently in Sainsbury's and retails at £4.50 which is expensive, but trust me, it's worth it. I usually top my pizza with Sainsbury's Pepperoni, as this is also low FODMAP and costs £1.
Alternatively you could add any topping, I've tried parma ham and veggies in the past. The other low FODMAP alternative pizza is the Schar Lactose Free Margherita Pizza which is much better value at £3.00. In my opinion it isn't quite as tasty, but I often alternate it with the Pizza Express alternative to save a little money.
This is found in the freezer section of supermarkets, whereas the Pizza Express are found in the chilled ready meal/pizza aisles. I am so pleased though that there is a lactose, onion, garlic, gluten and nut free pizza available to buy from local supermarkets. It's a genuine lifesaver, especially as I recently found out that Domino's have added garlic to their tomato sauce base, which rules out pretty much all takeaway pizza!
8. Dove's Farm Flours
As an avid baker (as I probably mention on most recipes I've posted!) I am so pleased that Dove's Farm paved the way for such incredible gluten free flours and baking supplements, including their own baking powder, and xanthan gum – the miracle powder that holds my biscuits and pastries together! The majority of the recipes on my blog, and on my Instagram (@lowfodmapinspiration) have been made with Dove's flours with outstanding results. When I first converted to gluten free baking, I presumed that all bakes would be flat, dry and just generally quite sad, however they are far from it. I am often complimented on the moistness of cakes, and surprise at how light and fluffy they are. If baking for work colleagues, they are often surprised that bakes are in fact gluten free. If anything, I think they taste better and are much lighter in texture (meaning you can fit in that extra little slice that you probably shouldn't have!) Why not try some of my cake and biscuit recipes: Lemon & Elderflower Cupcakes, Easter Surprise Cake, Chocolate Chip Cookies, Chocolate Marble Muffins, & Chocolate Fudge Cake.
9. Decaffeinated tea
One of the most important changes when transitioning onto the low FODMAP diet was to cut down on the amount of caffeine I consumed. I absolutely live for tea, drinking at least four cups a day, so this was quite a noticeable change for me. I switched to decaffeinated and immediately felt the benefits. I no longer rely on caffeine to get me through the day, I find I sleep better and most importantly it's helped (along with other factors) to calm my gut. I sometimes have a caffeinated tea first thing in the morning, but otherwise I drink decaffeinated so that I can drink as many cups as I like (drinking lots also aids digestion, so it's a win-win!) My favourite brand of decaf tea is Marks and Spencer, but Tetley and PG tips also make a pretty strong decaf tea. Give it a try and see what you think!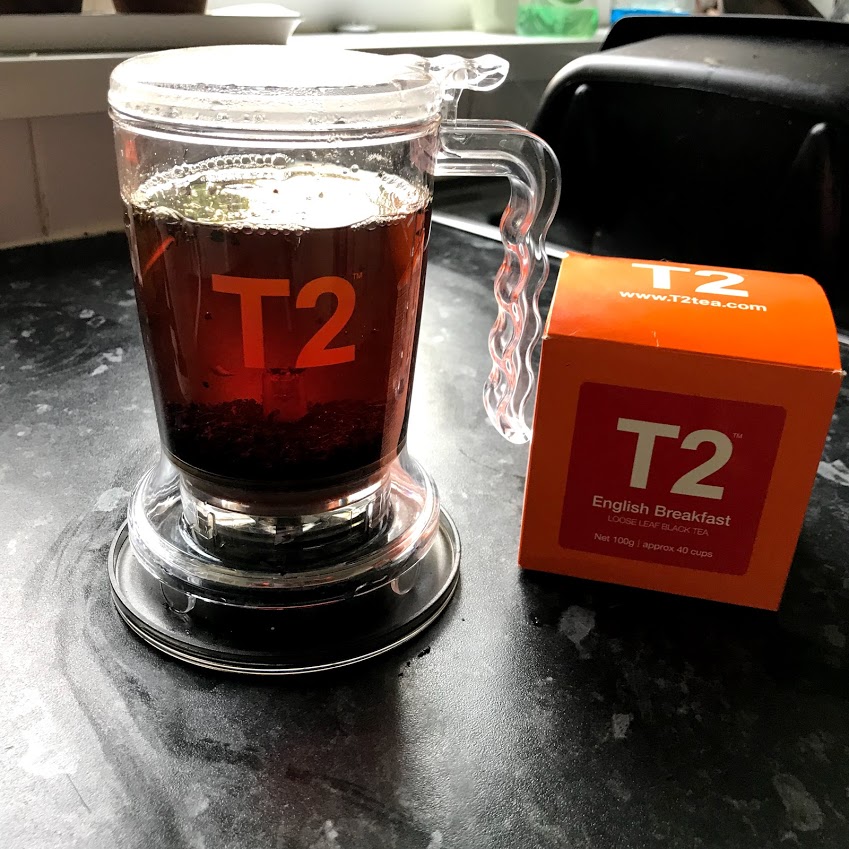 Alternative options for if I'm having a flare up I sometimes go for a Just Ginger tea by T2. This is soothing on the stomach and very tasty. My other favourite infusions of theirs are New York Breakfast – black tea, cinnamon and vanilla – which tastes incredibly like pancakes, and their classic English breakfast tea which is a good, strong brew! Otherwise I might have a peppermint tea, as mint is fantastic at soothing the stomach, particularly in the evening if I'm feeling a little bloated.
10. Sweet Freedom Chocolate Pot
This is quite a recent addition to my list, as I only tried it a couple of weeks ago following a trip to Tesco. Having been nut free for a while, I'd given up on chocolate spread assuming that as I could no longer have Nutella, there was no point in ever having chocolate spread as they would never live up to the memories! However, I saw this little pot on the shelf and was attracted by all of the winning slogans… "vegan" "free from dairy, gluten, nuts & GMOs" "no chemical processing" "no additives" "no preservatives" "no palm oil".
That last one really resonates with me as I was fortunate to travel to Borneo in 2014, and I saw the reality of the scale of palm oil plantations. As I flew into Kota Kinabalu airport it's all you could see! I visited Sepilok Orangutan Rehabilitation Centre and it was really evident the impact of the farming on the wildlife. That alone, made me want to try the product! So far I've enjoyed it on toast and waffles, and I just love it! Such a rich, chocolate flavour, without being sickly, and it has almost a buttery texture.
It's worth noting that the Choc Pot does contain extracts of apple, which is high FODMAP due to the presence of sorbitol and fructose, however in small portions I haven't had any symptoms after eating it. I would recommend waiting until a reintroduction phase to try it just in case it does bring about any symptoms.
I could definitely write about more fantastic low FODMAP products available (Grass Roots Bakery Bread Mix, Schar Waffles, Sainsbury's Gluten Free Chicken Chunks, Tesco Free From Eclairs & Doughnuts, Schar Hamburger Buns and so on…) but I will save that for another installment. With more products being released all the time due to the growing numbers of food intolerances and allergies, I'm sure there will continue to be plenty of exciting low FODMAP foods to try…
Please let me know some of your favourite FODMAP friendly foods as I'm always looking for ideas and inspiration to keep the IBS dormant (I consider it to be like a volcano which could erupt at any time) all the while keeping my taste buds happy!
I've recently posted Low FODMAP Favourites Part 2 – check it out here!
Alice x