Quite a while ago now I shared my first cookie recipe for an egg free, gluten free, low FODMAP Chocolate Chip Cookie. Since then I've been reintroducing more lactose and decided it was time to up the chocolate. If you enjoyed my Easter Mini Egg Cookies, then you'll LOVE these. They are crisp, yet gooey-centred TRIPLE chocolate chip cookies. If you are unable to tolerate lactose, you could take a lactase enzyme to aid digestion or instead replace the chocolate chips with dairy free alternatives! I recently used dairy free chocolate to make these Raspberry & White Chocolate Cupcakes and they were delicious!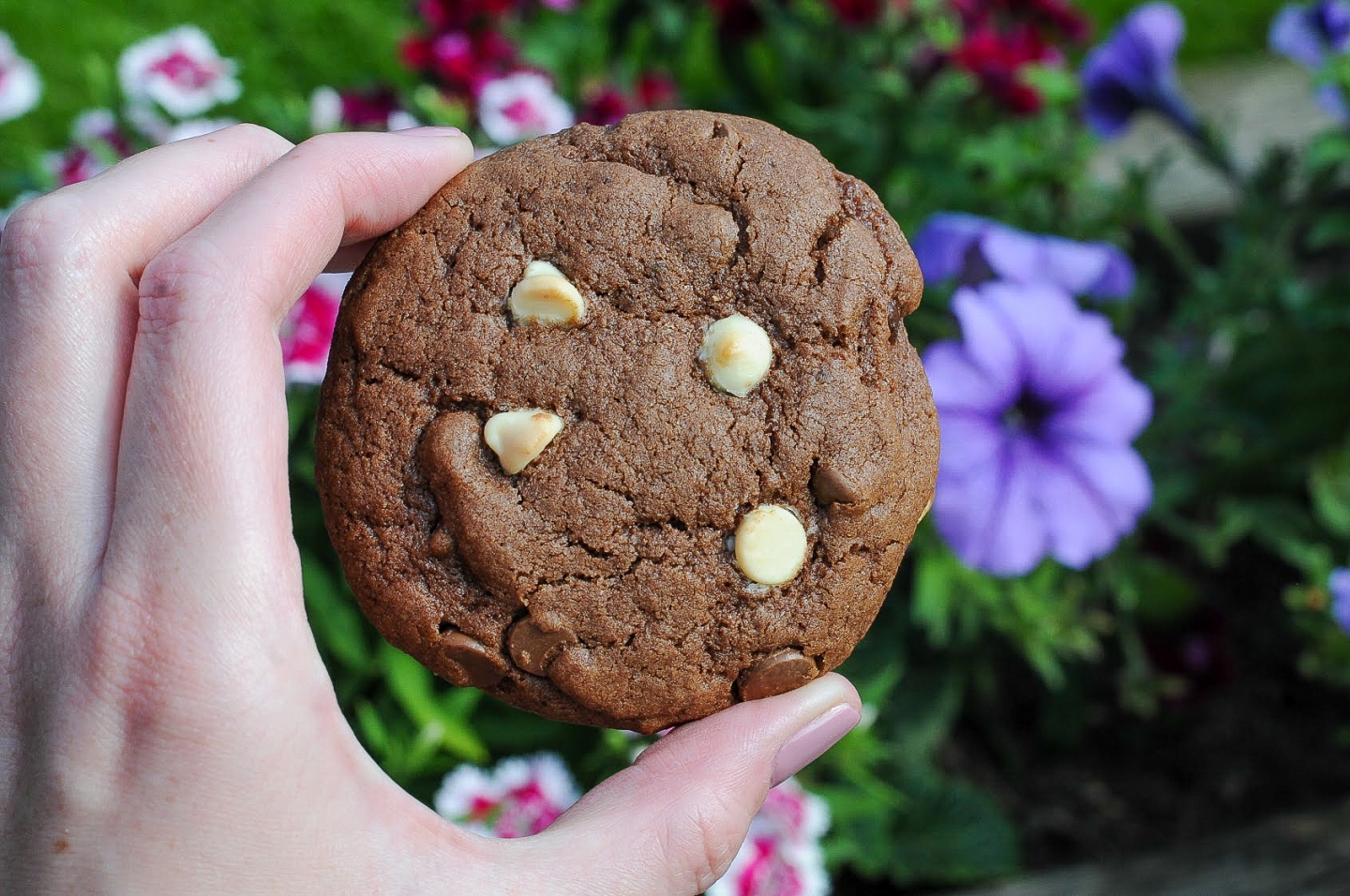 I love to bake and I only found out yesterday that the Great British Bake Off starts again next week. I would love to apply one year but I don't know how it would work with my allergies. I'm still waiting for my nut trial to prove it's oral allergy syndrome and not a true allergy. Not forgetting my other intolerances to wheat and all of the other FODMAPs. Any suggestions on how to get round that one? Maybe I'll go for it next year. In the meantime, I'll keep practicing and sharing the recipes on my blog. At least I already have a portfolio for the application form…
The recipe below makes 18 cookies and they've been brilliant this week as I've shared them with friends and family, packed them on picnics and enjoyed dipping them in a nice cup of tea. They're especially delicious straight out of the oven. The chocolate melts in your mouth and before you know it, you've eaten four.
Triple Chocolate Chip Cookies
Servings: 18 Cookies
Ingredients
100 g Light brown sugar or light muscovado sugar
100 g Caster sugar
1 tbsp Golden syrup
110 g Butter
1 Egg
1 tsp Baking powder
270 g Gluten free plain flour
25 g Cocoa powder (make sure this is gluten free)
50 g White chocolate chips
50 g Milk chocolate chips
50 g Dark chocolate chips
Instructions
Preheat the oven to gas mark 3 or 170 degrees.

In a large bowl, mix together the butter, sugar and golden syrup.

Add the egg, plain flour, cocoa powder and baking powder and mix well until it forms a dough.

Mix the chocolate chips into the cookie dough ensuring they are spread throughout.

Form small balls of cookie dough (slightly smaller than golf balls), flatten and place on a lined baking tray. Leave space between each cookie as these will spread out in the oven.

Make sure a few chocolate chips are exposed on the surface so that they show through after baking.

Bake for 15 minutes or until golden.

Leave to cool on the baking tray and enjoy.
I hope you enjoy making and scoffing these ultra chocolatey cookies, perfect for snacking on this bank holiday weekend, or even for the first episode of Bake Off… I'll leave that up to you! Let me know if you make these, it genuinely makes me so happy seeing your creations on Instagram (tag me @lowfodmapinspiration).
Happy baking,
Alice x