As I'm about halfway through the summer holidays (I can't believe there are just over two weeks left, it has gone so quickly!) I've suddenly realised I need to start eating a little healthier. It's so easy to snack, eat out LOTS and generally miss out on my routine portions of fruit and vegetables! I therefore decided to adapt a filling breakfast of pancakes, but make them slightly healthier by adding bananas into the mix.
I am quite a fan of bananas but I do find that they have such a small window to be eaten due the FODMAP content increasing as they ripen. I then find myself wasting them (or storing endless amounts in the freezer to be turned into a frozen banana ice cream at a later date!) However by turning the bananas into pancakes, I find that I can enjoy them for a couple of breakfasts without having to worry that the bananas ripen overnight!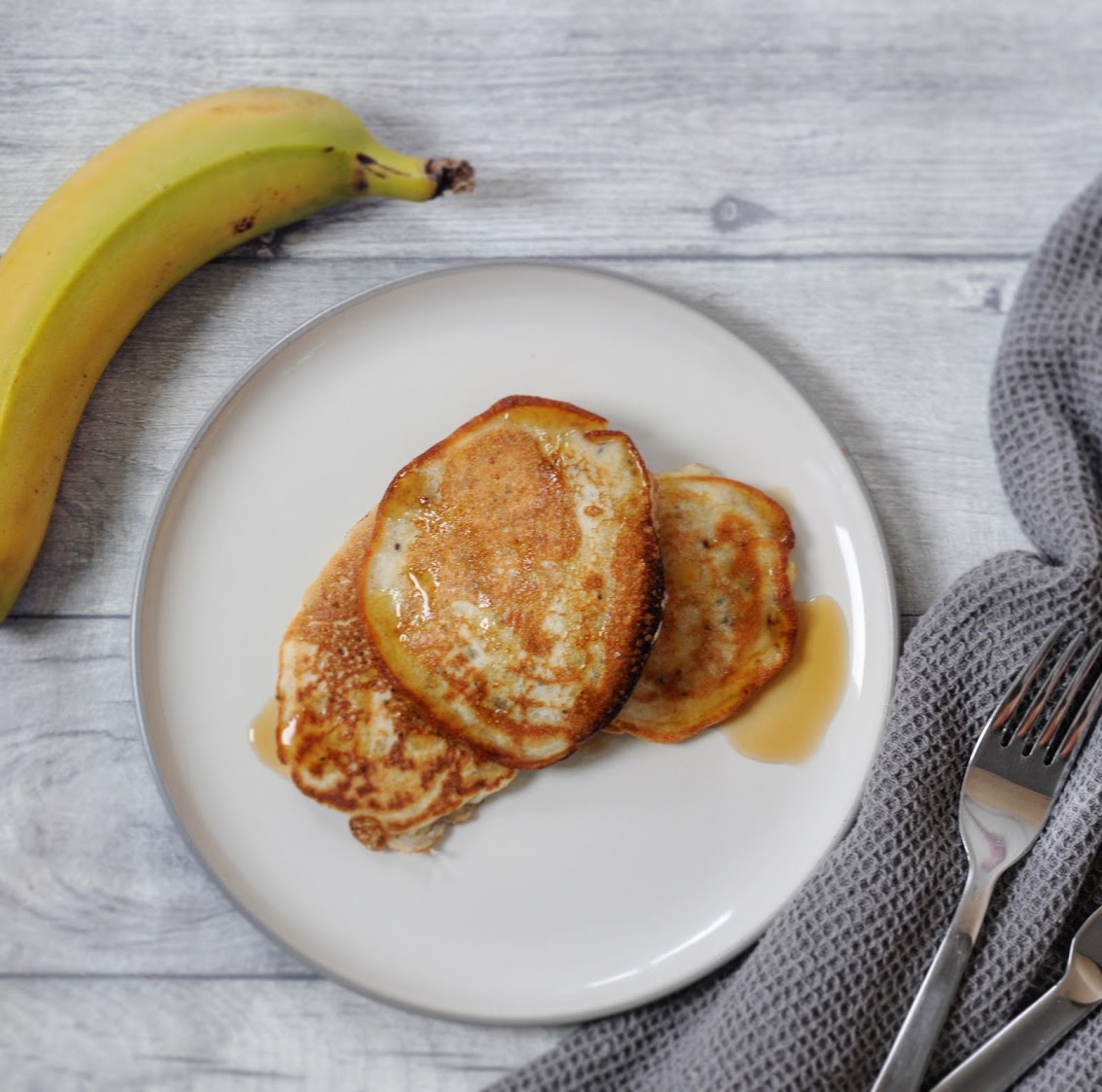 These pancakes are delicious served with a simple drizzle of maple syrup, or if you want to make a brunch out of them, you could add other fresh fruits too! Just go careful not to consume too much fructose! I just added a small handful of blueberries and raspberries but they would also taste lovely with kiwi fruit, extra banana and strawberries.
Banana & Chia Pancakes
Servings: 8 pancakes
Ingredients
1 Banana
1 Egg
120 ml Milk (lactose-free)
110 g Gluten free plain flour
1 tsp Baking powder
1 tbsp Chia seeds
Instructions
Mash the banana using in a fork until there are no lumps.

Add the egg and milk and mix well.

Gradually add the plain flour and baking powder and stir until it forms a thick mixture.

Stir in the chia seeds.

Heat up a small frying pan with a little oil.

Once hot, add a small amount of the pancake mixture.

Bubbles should start to form on the surface of the pancake after a minute or so. Flip the pancake and cook for another minute or so.

Repeat this process until all of the pancake mixture is used up.
If you enjoy this recipe, you might like to try my American Pancakes, which are slightly fluffier in texture, or Traditional Crepes with a mixed berry compote which are perfect for pancake day, but of course don't just limit yourself to pancakes on one day of the year!
Let me know if you give these banana and chia pancakes a try, I love feedback on my recipes. Give me a tag on Instagram or send me message. It's great to chat with those of you experiencing the same tummy troubles!
Happy pancake making,
Alice x