If you follow me on Instagram you may have seen that I've been trialling a number of pancake recipes recently. I personally love a good pancake, and for me, the fluffier, the better! So I've been trying to create a really fluffy gluten free pancake, perfect for a weekend brunch.
I love pancakes as they are great with so many different flavours from bacon, chocolate spread, golden syrup, maple syrup, banana, peanut butter or Nutella (it sucks having a nut allergy!), lemon or a mixture of summer fruits, and they are so filling too. Feels like a really hearty, indulgent breakfast.
I've trialled the recipe below a few times which meant I had a great week of eating pancakes everyday, just to make sure the recipe was exactly how I wanted it of course!
The first time I made the pancakes I trialled them with kiwi fruit, banana and strawberries. Despite being restricted by the low FODMAP diet, I think we are lucky in that we can still eat the most delicious fruits (albeit in small portions).
For the second attempt, I thought I'd better see how they tasted with a more classic savoury combo: crispy bacon and golden syrup. For this particular batch I trialled adding butter, but they came out a little too batter-like, more like a traditional 'pancake day' pancake as opposed to the fluffy texture I was after!
The third attempt was a more simple combination of raspberries, blueberries and maple syrup, and on this attempt I added more baking powder to improve the fluffy texture. I was really pleased with these…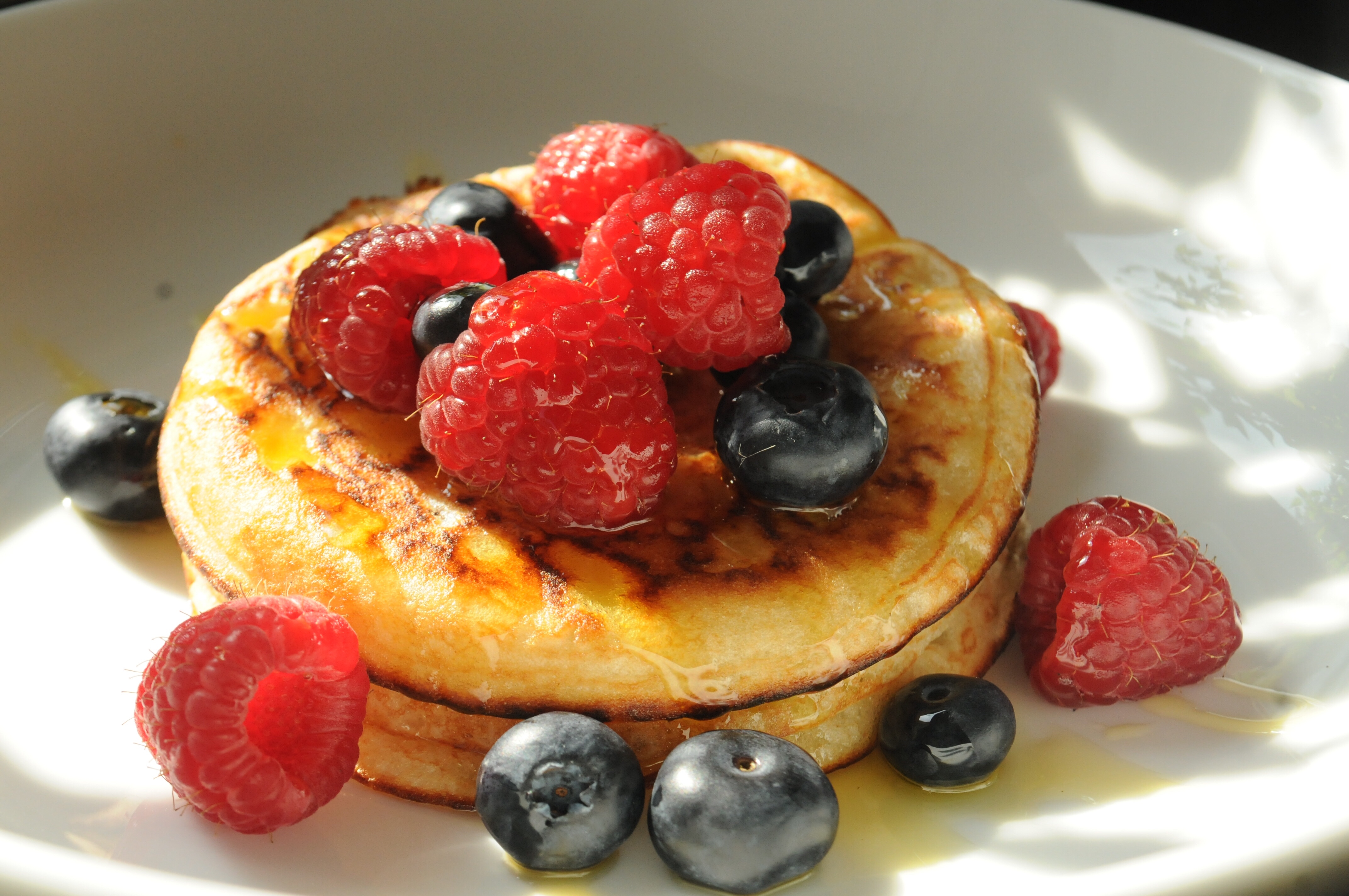 For my final attempt, and before I begun disliking pancakes, I went all out on the fillings and toppings. This is the final recipe and if whisked well, creates fluffy and filling American-style pancakes. In my four pancake stack, I actually added blueberries to the batter of every other pancake while they were cooking for extra flavour. I then spread some of my favourite nut-free chocolate spread – the Sweet Freedom Choc Pot – between the top layers so this melted through. I then topped the entire stack with blueberries, raspberries, lactose-free natural yoghurt and golden syrup. If you're going to make yourself a big stack of pancakes on the weekend, make sure you have ALL the toppings as these pancakes were delicious.
Gluten Free American Pancakes
Ingredients
300 ml Lactose-free milk
2 Eggs
220 g Gluten free plain flour
2 tsp Baking powder
1 tbsp Caster sugar
Instructions
Measure your dry ingredients (plain flour, baking powder and sugar) into a bowl and mix well.

In a separate bowl whisk together the milk and eggs, trying to get as much air into them as possible for fluffy pancakes.

Make a well in the dry mixture and gradually add the whisked milk and eggs. Beat until it forms a batter.

Heat a little butter or oil in a small pan on a medium heat (I used a spray or two of light fry) and add a ladle of your pancake batter. When bubbles start to form on the surface, flip the pancake and cook until golden. Repeat for as many pancakes as you like (you can always put the remaining batter in the fridge for another day!)

Serve with maple or golden syrup, fruit or anything else you fancy.
If you fancy trying a savoury low FODMAP breakfast instead, make sure you check out my Breakfast eggs (Shakshuka).
Let me know if you give these pancakes a try and if you have any other topping ideas, leave them in the comments below, I'd love any excuse to make these again!
Happy pancake making,
Alice x