As Cadbury's Mini Eggs are my favourite Easter treat, I thought I'd share another recipe using them. I love the fact that they're gluten free and despite the milk content, they're tummy-friendly in small portions.
Earlier this week I shared a recipe for my Easter Nest Cupcakes, however having purchased quite a few mini eggs for recipe testing, I thought I'd come up with a gluten free, gooey cookie recipe to share with you all, and to feed my family on Easter Sunday.
The recipe below makes a generous 18 biscuits, depending on the size of your cookies and is super quick and easy to make (especially if you have a food mixer/kitchenaid).
Mini Egg Cookies
Servings: 18 Cookies
Ingredients
100 g Light brown sugar (or light muscovado sugar)
100 g Caster sugar
1 tbsp Golden syrup
110 g Butter
1 Egg
1 tsp Baking powder
300g Gluten free plain flour
180 g Mini eggs
Instructions
Preheat the oven to gas mark 3 or 170 degrees.

In a large bowl, mix together the butter, sugar and golden syrup.

Add the egg, plain flour and baking powder and mix well until it forms a dough.

Using a rolling pin, crush the mini eggs in the packet so that they form small fragments.

Mix the mini eggs into the cookie dough ensuring they are spread throughout.

Form small balls of cookie dough (slightly smaller than golf balls), flatten and place on a lined baking tray. Leave space between each cookie as these will spread out in the oven.

Make sure fragments of the mini eggs are placed on the surface so that they show through after baking.

Bake for 15 minutes or until golden.

Leave to cool on the baking tray and enjoy.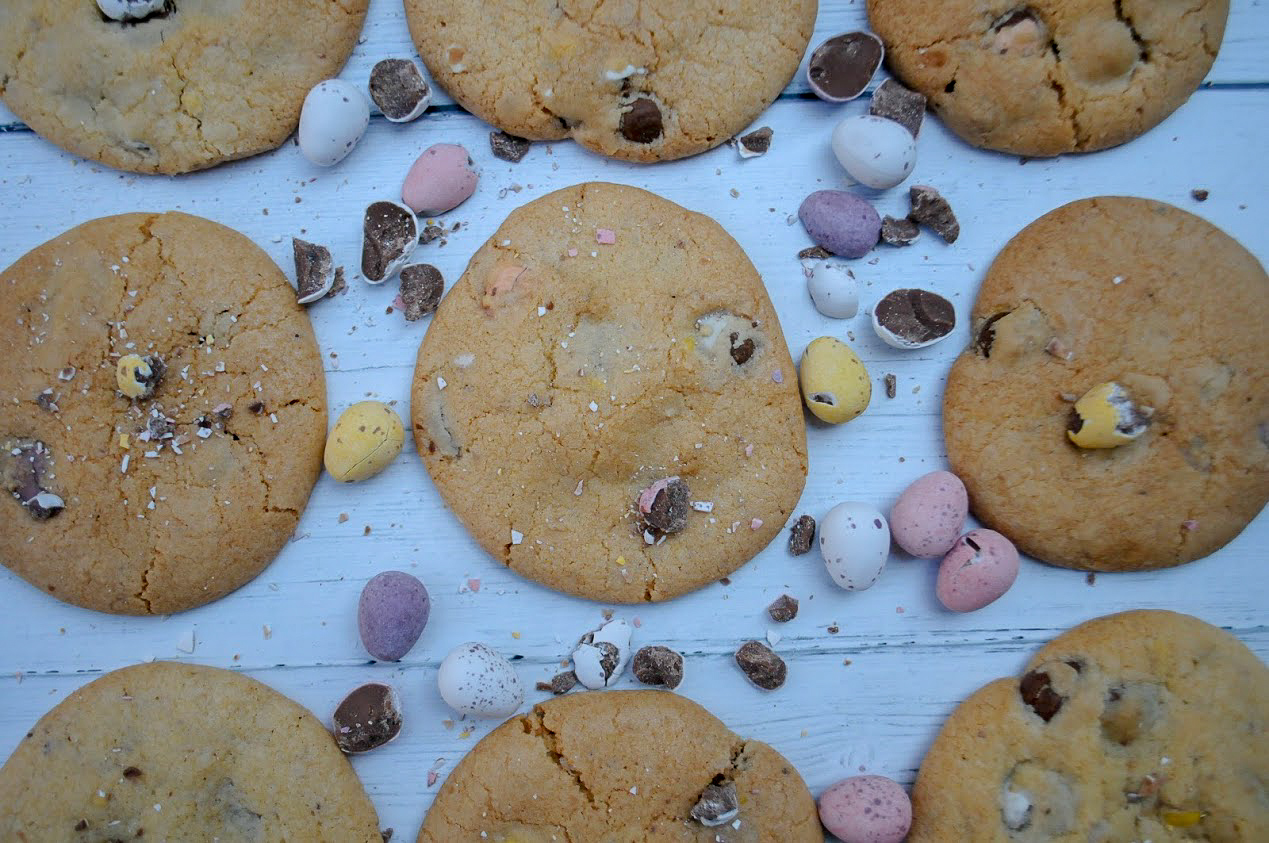 This recipe is great for bank holiday Monday – once Easter is over and you've been gifted lots of mini eggs, why not turn them into a tasty batch of cookies instead?! If you enjoyed this recipe, why not take a look at my other Easter cakes: Easter Surprise Cake or Easter Nest Cupcakes.
Happy Easter,
Alice x