AD
I was recently sent a range of gluten free pastas to try from Garofalo, an Italian pasta brand made using quinoa, corn and brown rice. I first tried the Garofalo pasta range following a trip to Sorrento in Italy. I brought a pack of their Casarecce pasta in a local food shop thinking I'd found a real gem, only to find it's sold in the UK too! Despite having gone to the effort of packing it, I'm so pleased I can buy it at home as it's a really delicious pasta with a similar texture to gluten-containing pasta.
I used the Garofalo Mafalda Corta pasta to make a Chilli King Prawn dish as I loved the shape and texture, and I thought it went particularly well with seafood. The other shapes such as Casarecce works well with my oyster mushroom pasta recipe (see my 5 quick low FODMAP meals), and I'm yet to try this, but I think Annelini would be great for making gluten free, tummy friendly spaghetti hoops. I'll let you all know how this turns out when I get round to it, so watch this space! The entire Garofalo gluten free range is available from Ocado, and if you'd like to shop their range just click here.
The recipe below serves two.
Chilli King Prawn Pasta
Ingredients
1 tbsp Garlic-infused oil
165 g Raw king prawns (I use shell-on prawns as I find these tastier)
½ Lemon (juice)
1 tbsp Creme fraiche
100 ml White wine
1 Red chilli (finely chopped)
150 g Cherry tomatoes
10 g Curly parsley
200 g Garofalo Mafalda Corta pasta
Instructions
In a large frying pan, heat the garlic-infused oil. Add the red chilli for a minute or so.

Add the cherry tomatoes, lemon juice and white wine and simmer on a low heat.

While the tomatoes soften, cook the Garofalo pasta in a saucepan of boiling water for 9 minutes.

While the pasta cooks, and once the wine has cooked off slightly, add the king prawns and season well.

Once the prawns are pink in colour, season well then stir in the creme fraiche and chopped parsley. Mix in the cooked pasta and serve.

Top with any leftover parsley to decorate, and enjoy with a glass of white wine.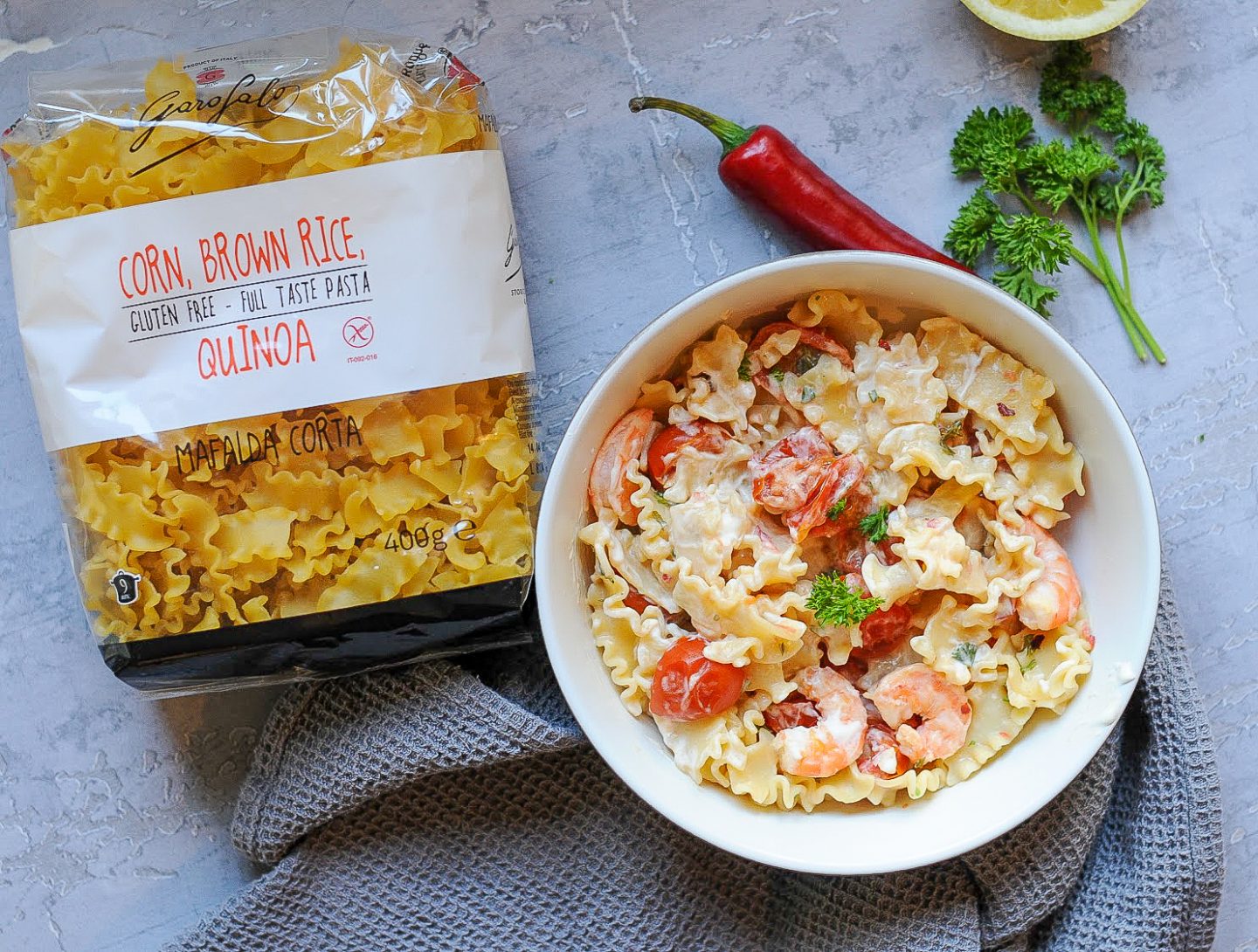 This pasta is a quick and easy after work meal, and is ideal for the beautiful summer evenings we've been having. Have you tried any of the Garofalo gluten free pastas? I'd love to know what you think! There are so many shapes to try!
As always, let me know if you give my Chilli King Prawn Pasta a try, I love seeing you tag me in your creations over on Instagram.
Alice x
This is a sponsored post in partnership with Garofalo.