At the end of July my boyfriend and I travelled out to Sorrento for a week's holiday. Having spent a lot of time deciding where to go after a fantastic holiday in Santorini last year, we decided on Italy. Having only been to Rome, we thought we'd head further south for a relaxing break by the sea, and you can't usually go wrong with Italian food.
Accommodation:
Our holiday was booked through TUI (although I did try to find it cheaper independently without success!) and we stayed at the Grand Hotel Aminta on the outskirts of Sorrento on a half-board basis. On arrival we were upgraded to a room with a balcony, and despite it being around 10pm, dinner was waiting for us in the restaurant. Having emailed the hotel in advance, I was informed that my dietary requirements weren't a problem, and on the first evening I was served a plate of cold meats, cheese and salad covered in a cling film, labelled "Sensa Glutine". So I can confidently say that this hotel is great for anyone with coeliac disease, a gluten intolerance or other food allergies.
The hotel itself really is lovely, with a large pool, impressive bar (below – yet VERY expensive), attentive staff and a welcoming feel. The views are also stunning, depending on which side of the hotel you stay, you can enjoy the sunrise over Sorrento, or from the side we stayed, the sunset across Capri. A free shuttle bus service also takes guests in and out of town hourly (with a break over lunch).
While I really enjoyed my holiday, there were a couple of niggles that might put me off returning to the same property in the future which I've highlighted below.
Sunbeds – these can be booked in advance (up to 30) for €4 per sunbed per day, which for a weeks' holiday can become quite expensive (particularly when it wasn't a cheap holiday to begin with). The remaining sunbeds (there are nowhere near enough for all guests) are first-come first-served but often all taken by 8:30am. This policy for me just didn't work. We begrudged reserving them if we had excursions arranged or if we planned on heading into Sorrento for lunch, but then found ourselves sunbathing on the bar sofas either side of this! Not ideal for us, and surely not ideal for the hotel as the sofas are likely to become damaged by constantly being wet/in contact with sun cream products etc. Many sunbeds were also often reserved and not used.
Prices – as already mentioned, the bar is very pricey! A gin and tonic set me back €10.50 on one evening. The bar area was always quiet, and like us, other guests were probably having pre-dinner drinks on their balconies or in Sorrento where it was considerably cheaper. I actually bought a bottle of Gordon's Gin from the supermarket in the end for €11, otherwise I feared the hotel bill would ruin the holiday. Lunches were similarly as expensive, all above €10 even for a simple omelette and salad which added up somewhat over a week's stay. Again, this might be a personal issue, but I just felt that if they'd lowered the prices, more people would use the bar and there'd be a much better atmosphere in the evenings.
Despite the minor gripes, they catered really well for the low FODMAP diet throughout my stay which I am so grateful for. Every breakfast I was given a basket with a selection of gluten free cereal, bread and biscuit products, lunches were often an omelette or salad, and dinners were always three courses, a starter of pasta, salad or risotto, followed by a meat/fish main and then dessert. Here are a few of the highlights…
Lunches at the hotel:
Caprese salad (starter):
Tuna pasta (starter):
Grilled chicken with vegetables (main):
Swordfish with vegetables (main):

Raspberry custard tart (dessert):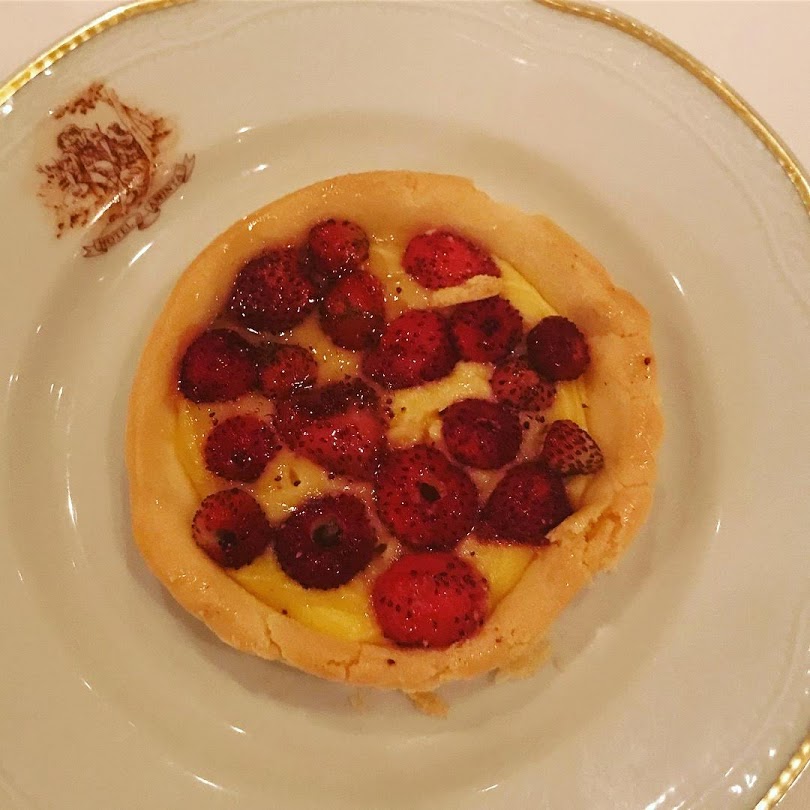 Eating out:
As I already mentioned, we booked our holiday on a half board basis so we mostly ate at the hotel to save money, however, as the hotel didn't offer a gluten free pizza, this was on my bucket list to find..!
N'Hambu
Before travelling to Sorrento I actually found N'Hambu on Instagram as they'd tagged a gluten free sandwich. I then followed them and loved the look of the food. I think their gluten free rolls (which were fresh and had a real bread-like texture) are from No Glu Sorrento – a gluten free bakery. I desperately wanted to visit, but it was quite a way out of town. On our first full day we walked to N'Hambu and I ordered the classic Cheeseburger for €8.50 (plus €1 supplement for gluten free) without any onion or garlic. The burger was delicious – although not authentic Italian – a filling sandwich for lunch after walking around in the midday heat. There is also a patch of greenery with benches opposite where we sat and ate in the shade. So if you get bored of pizza or pasta (or just love a good sandwich/burger) I'd definitely recommend stopping by!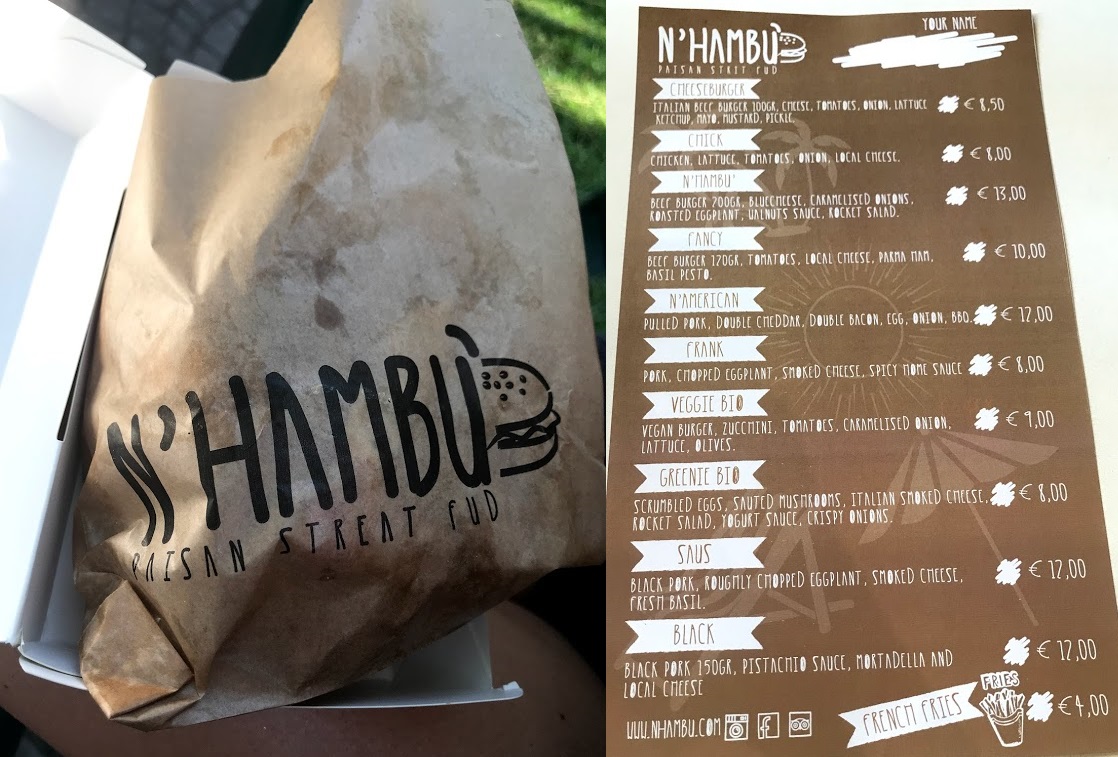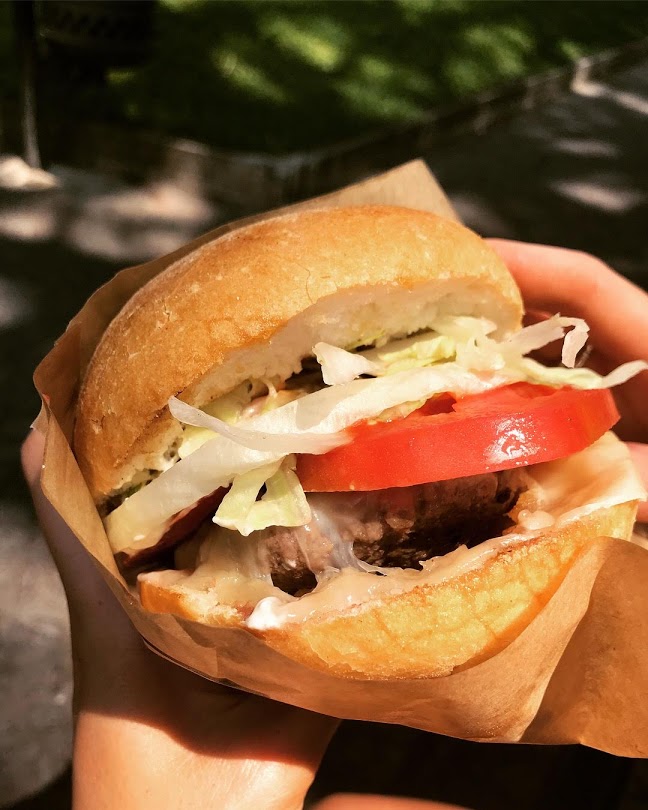 Foreigner's Club
If you travel with TUI, they offer you a walkaround of Sorrento on the first day of your holiday, which actually ends up at Foreigner's Club. Don't let that put you off though, the food here is brilliant and they are great for gluten free – they had an entire page in their menu dedicated to it! We returned here for dinner one evening, and I booked a table online with a sea view, so that we could look across to Mount Vesuvius. As I am a seafood fan, I went for their gluten free Spaghetti Frutti Di Mare which was packed with fresh seafood and very tasty.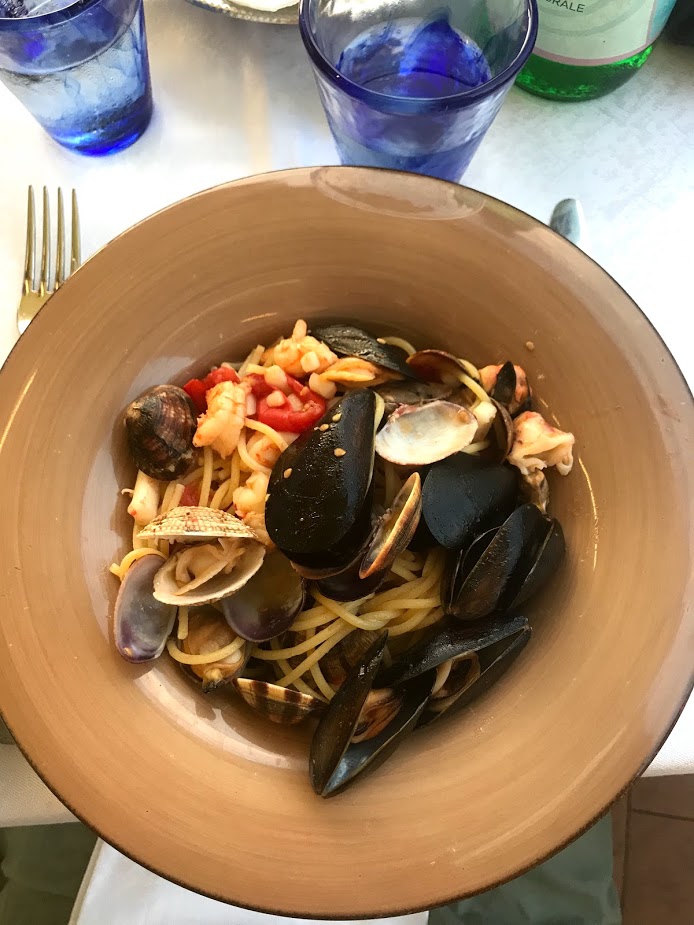 Ristorante San Antonio

Having really enjoyed the food so far, I was now really craving a gluten free pizza. Having seen a number of pizza ovens out and about in Sorrento, many offering gluten free, I decided to go on Tripadvisor for recommendations as I had limited opportunities to taste one! Based on all the glowing reviews, including "the best gluten free pizza they've had in their life" I had to try out Ristorante San Antonio. The ordering process was simple, they could make me a tomato sauce without any onion or garlic, and it would be stonebaked. On arrival, the pizza looked incredible, and I understood the Tripadvisor reviews.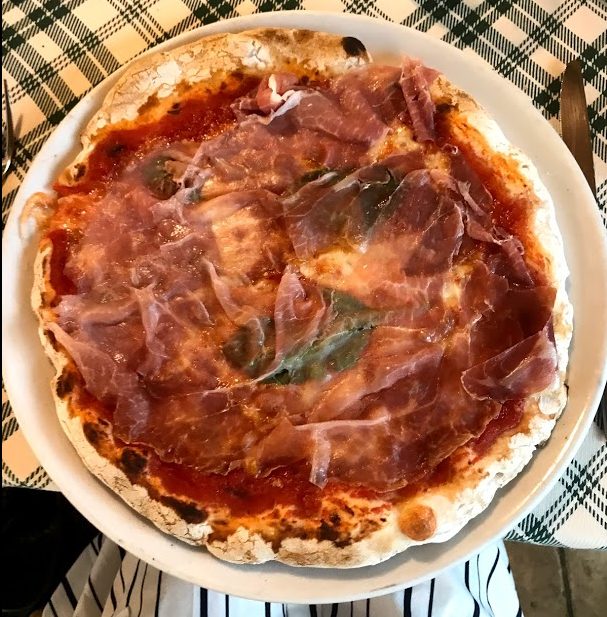 However sadly upon cutting into it, it soon became apparent that the thick dough underneath was raw, and resembled a transparent glue, which you can see ever so slightly in the second picture. I did not have time for it to be re-made (we had a shuttle bus to catch) so I only ate the crust and the toppings (which were surprisingly filling on their own!). Those parts were actually really tasty and justified the reviews, but it was just such a shame that it wasn't cooked for long enough. They did rectify it by not charging us for the pizza though. I'm not one to complain but once I'd removed the topping it was clear it was raw.
Blu Water Restaurant
Having been disappointed with my first taste of a gluten free Italian pizza in Sorrento, I decided to try again after Pompeii. We arrived back into Sorrento at about half 3 (be warned the trains are often delayed/have their own schedule) so we walked back into the old town and decided to stop at the first place that offered gluten free pizza. We were very hot and hungry by this point! Blu Water Restaurant was very quiet (but it was an odd time), however they were very keen to show me their gluten free menu. We decided to share a pizza and went for bacon topped with mozzarella and parmesan. This pizza was incredible. I'm not sure if it was because we were so hungry any food would have been outstanding but I do remember it being really tasty. In hindsight I think it was a frozen or shop bought base, but I really wasn't complaining after having raw dough the day before.
Puro
Just off the main square in Sorrento (Piazza Tasso) is a cafe/gelateria called Puro which clearly labels gluten free, nut free, dairy free/vegan gelato! I went for dairy free strawberry, with the vanilla gelato in a gluten free cone. Not only was the gelato delicious, I could enjoy it on an indoor swing… Very quirky! If you're staying in Sorrento I'd definitely recommend stopping by here multiple times..!
Excursions:
There are so many things to do in and around Sorrento that in all honesty we ran out of time (and money) to do it all! One of the reasons we booked Sorrento is that it offered both the chance to relax and sunbathe as well as explore some historical and geological landmarks! TUI offer loads of excursions, but as I prefer to avoid coach trip-style excursions, we decided to only book the hike up Mount Vesuvius through them as it was quite far away.
Mount Vesuvius
The TUI trip to Mount Vesuvius cost £58.80 for the two of us (£29.40 each), plus €10 each entry onto the volcano. I thoroughly enjoyed this trip, I've only ever been up part of Mount Teide in Tenerife and found the whole concept of hiking up a live volcano with views across Naples and the bay beyond pretty incredible! The hike itself took me about 40 minutes on the way up, due to the heat, but it does get cooler the higher you get, then about 20 minutes on the way down. It is quite steep, but certainly manageable. I took the photo below not to admire my nice white converse, but to give you an idea of the terrain! At the bottom you can take a stick to help you, and they just ask that you give a 'tip' for its use, so I gave 50 cent at the end… Well worth getting, particularly on the way down when your legs turn to jelly!
While on holiday I posted about my IBS tummy troubles – the night before I suffered cramps, urgency to go to the toilet etc, just the usual flare up issues, exacerbated by the fact I knew I was hiking the volcano the following morning (collection from the hotel was at 7:50am). I'd also googled the toilet situation, with the first Tripadvisor review reading "Warning no toilets" which certainly didn't help! However I can confirm that there are toilets (well portaloos) available to use for €1 if you're totally desperate. The TUI trip also stops at a geology museum on the way which has relatively nice toilets to use. I don't know about anyone else but when my tummy is unsettled, my bladder is hopeless and fills up in minutes so it's good to know where toilets are regardless!
Pompeii
The other excursion we went for in Sorrento was a trip to the historical ruins of Pompeii. I won't go through all the historical details – you need to go and find out for yourselves –  but effectively it was destroyed when Vesuvius erupted in AD 79 and covered in ash. To save money, we took the train direct from Sorrento to Pompeii (30 minutes and about 4 stops) which cost around €6 for the two of us. On arrival you walk across the road directly to the entrance of the historical site. Here you have two options, pay for a local guide to show you around and give you fast-track entry (cost an additional €15 each), or pay for yourselves, collect an audio guide and explore. Due to the unbearable heat, and the sheer size of the site, we opted for a guide. I did find our guide very informative, taking us in a house and explaining what life was like, but I'm also not a fan of waiting round for other people – so it really depends on what you want out of your visit!
Again with regard to toilets, there are plenty in Pompeii and of a high standard!
Reflecting on our holiday as a whole, I wish we had time and/or additional spending money to take the ferry to Capri and visit the blue grotto, but there's always next time! Alternatively I'd have liked to have taken a boat trip to Positano along the Amalfi Coast as this is supposed to be very picturesque. However, I don't regret our excursion decisions as they are must-sees for the area.
During this holiday I suffered more than usual with IBS symptoms. I think choosing a hotel slightly out of the town meant that I'd worry unnecessarily about shuttle bus timings, toilet access when in Sorrento and I think I generally struggled with the heat. If I chose again, I'd probably pick a hotel in the centre of town on a bed & breakfast basis so that I could eat out in the many inviting restaurants along the cobbled streets. Then, if the odd limoncello didn't agree with me, I could easily get back to my room! Having said all that though, I don't like to go back to the same place twice as there's so many places I've yet to visit!
If like me, you love Italian food, why not give some of my Italian-inspired recipes a try: Pasta Alla Norma, Sausage Pasta, Roasted Vegetable Lasagne, Seafood Risotto, Crab Spaghetti, Spaghetti Carbonara, Salmon & Prawn Spaghetti, Quorn Meat Lasagne or Macaroni Cheese! I actually have more recipes than I realised..!
I hope you've enjoyed reading this, I'm now already thinking ahead to next year's holiday, I'm thinking either Barcelona, Rhodes, Cape Verde or to another region in the South of France as I really enjoyed visiting Languedoc a few years back! I'm also thinking of a self-catering option as I've had many suggestions that this may be more suited when travelling with IBS. If you have any other holiday suggestions, please do leave them in the comments below…
Alice x