As the weather continues to improve, and it feels like summer has arrived, all I want to do is have drinks in the sunshine, head to nearby beaches and most importantly, eat  lots of tasty low FODMAP food outside (in my own small, but sunny garden or outside country pubs)! One of my favourite locations to eat out is at Carluccio's in Gunwharf Quays in Portsmouth, where you can sit on a balcony and enjoy stunning views of the Spinnaker Tower and the Isle of Wight across the Solent. It was at this particular restaurant (before the low FODMAP fun) that I tried a delicious meaty pasta which came as part of a trio of dishes – why have one dish of pasta when you can have three?! It was a sausage pasta (potentially called Penne Alla Luganica – can anyone else remember it?) and having such fond memories of it, I've since recreated a low FODMAP, gluten free version which I can enjoy without the tummy problems (I just need to recreate the picturesque views!)
You may have noticed that I've recently posted quite a few pasta dishes, and firstly this is because I love pasta, secondly, the gluten free alternatives are actually really good and not particularly expensive, and thirdly, and most importantly, I find pasta really fills me up! I don't know if anyone else has found this but since going on the low FODMAP diet I find myself getting reallyreally hungry, a lot of the time! I try to snack on healthy foods, but I think it takes the body a while to adjust to the fact it's not always bloated and uncomfortable, leaving me with quite an appetite instead! I'd be interested to know if anyone else finds this, and what they've done to overcome the hunger (and not become unhealthy!)
For this particular recipe, while I'd love to call this recipe Penne Alla Luganica because it sounds inviting and slightly posh, I'm not sure the Luganica sausage is low FODMAP, or where I would even find this particular sausage… So I've decided to call it classic Sausage Pasta, as you can use any sausage which doesn't contain onion or garlic for this recipe… I used Heck 97% Pork Sausages as they are gluten free, and do not contain any onion or garlic (though it does say spices, onion and garlic are usually listed as flavourings). The key to this dish is the combination of rosemary and sausage, which complement each other, resulting in a rich, comforting meal.
Ingredients (serves 4)
– 400g sausage (remove from casing)
– 3 tbsp garlic-infused oil
– 2 tsp rosemary (finely chopped)
– ½ tsp chilli flakes
– 400g tin plum tomatoes (use fresh to reduce FODMAPs)
– salt and pepper to taste
– 400g gluten free penne pasta
– 2 tbsp creme fraiche (I haven't yet found a lactose free version, so let me know if you do, if undergoing elimination, use lacto-free single cream instead)
– 100g parmesan (grated)

Method
Begin by removing the sausage meat from the casing and crumble. Heat the garlic-infused oil in a pan, add the sausage meat, rosemary and chilli flakes. Cook this on a medium heat for about 10 minutes. Add the plum tomatoes (you will want to roughly chop these) and cook for another 10 minutes. Meanwhile, heat a pan of boiling water and cook your gluten free penne pasta.

Once your pasta is cooked, drain this, and add your creme fraiche (or lactose-free cream) to the sauce with half of the parmesan and stir. Season your sauce, then serve on top the penne pasta. Add the remaining parmesan (with a little extra, depending on how much you love cheese!)
This is quite a filling, hearty meal, however if you're feeling very hungry, serve with a Schar gluten free baguette – drizzle with garlic-infused oil, bake for 10 minutes and slice – easy low FODMAP garlic bread!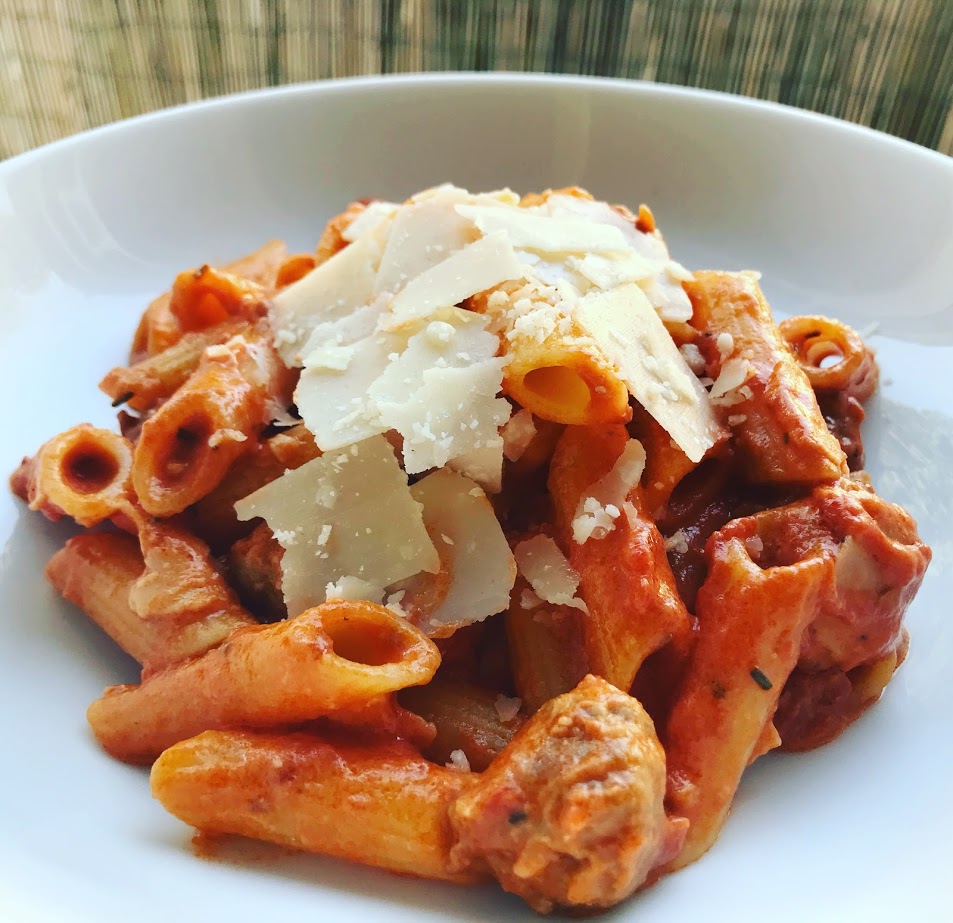 Let me know if you give this recipe a try, or if your not a huge fan of sausage, why not try some of my other pasta recipes (Pasta Alla Norma, Quorn 'Meat' Lasagne, Crab Spaghetti, or Roasted Vegetable Lasagne). Also, do let me know if there's any meals you miss since going low FODMAP, and I'll try and create a safe, but tasty alternative. Message me on social media, or leave a request in the comments below.
If you have a go at making this sausage pasta, let me know, either leave a comment, send me a messsage or even tag me in a picture (I'm on Instagram, Twitter & Facebook).
Alice x