Having just returned from a sunny week in Sorrento (I can't wait to share my low FODMAP recommendations in an upcoming blog post), for my first night back in the UK I decided to make a seafood risotto to enjoy in the garden with a nice glass of gin. My favourite gin is currently the Hortus Rhubarb and Ginger gin from Lidl, at a bargain price of £11.99. Now that I'm home I can relax and really enjoy food again. I tend to get a little anxious when I'm away in case of upsetting my IBS and I subsequently eat a little cautiously. This seafood risotto is so easy to make and really tasty. I'm often wary of cooking seafood myself as I find it hard to know when it's cooked, and I often worry about food poisoning (particularly with my tricky gut). All of the ingredients for this risotto can be picked up from the supermarket and thrown in with the peace of mind that they should already be cooked and safe for consumption!
I should note that having searched for a fish stock cube, the Sainsbury's one highlighted below despite no listing of onion or garlic, it does say it contains 'flavourings' so it may contain a very small amount. I have emailed them to clarify but am yet to hear back. If you are wary you could always use a vegetable stock (or if you're feeling very ambitious make a fish stock of your own using fresh seafood!)
Seafood Risotto
Ingredients
200 g Arborio Risotto Rice
1 tbsp Garlic-Infused Oil
1 Red Chilli (or 1 tsp chilli flakes)
175 ml White Wine
700 ml Fish Stock (I used Sainsbury's own brand stock cube)
100 g Cherry Tomatoes (sliced in half)
150 g Cooked Mussel Meat
120 g Shredded Crab Meat
165 g Raw King Prawns
10 g Parsley
Instructions
Heat the garlic-infused oil in a large pan and add finely chopped red chilli to soften.

Add the risotto rice and the wine, bring to the boil, then simmer.

Gradually add the fish stock, one ladle at a time, while stirring the risotto rice. As each ladle is absorbed by the rice, add another. This can take about 20 minutes until the rice is cooked!

Once the rice begins to expand, add the cherry tomatoes.

Once the rice is almost ready to serve, add the raw king prawns and stir until they turn pink.

Finally add the cooked mussels, shredded crab meat and finely chopped parsley and stir. Make sure that all the seafood is boiling hot (cook for at least three minutes) and serve with a sprig of parsley.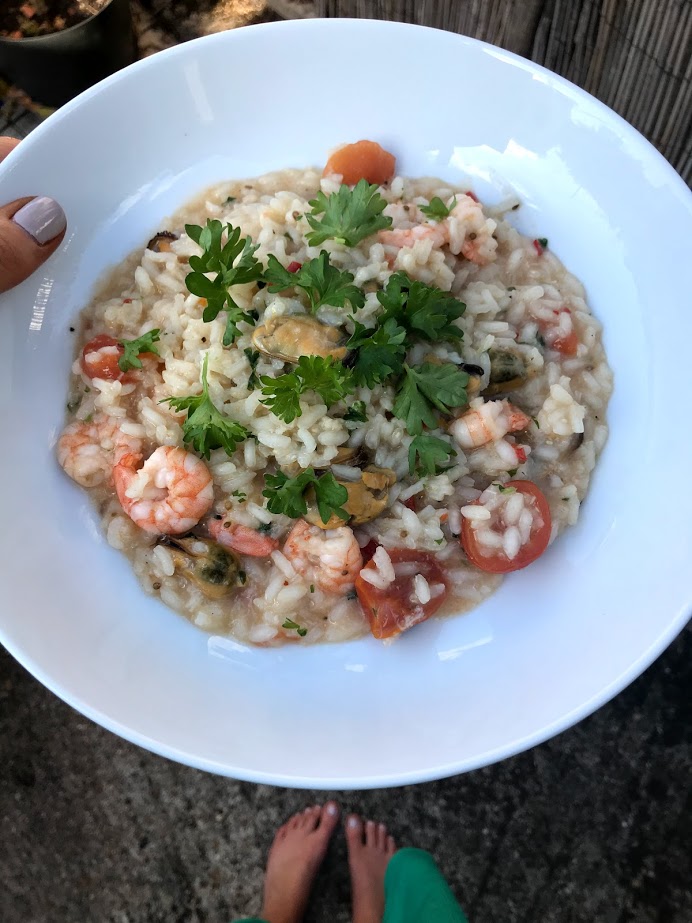 I haven't added the servings as I usually use this recipe to make dinner for the two of us, but there's usually a little leftover. It could stretch to feed four people (I'd add a little extra risotto rice and stock) as there is plenty of seafood.
As always, let me know if you give this recipe a try  – I hope you enjoy it.
Alice x