If you've been following me for a while, you'll know that I love to bake a gooey, chocolate brownie and either top it with festive treats, or incorporate additional flavours such as salted caramel. This time, I've decided to focus on texture and create a crispy caramel topping with a soft, gooey base. Caramel and chocolate go so well together and the cornflakes create the crunch I was after.
This recipe is gluten free and lactose free so it is perfect for those of us following a Low FODMAP diet. All of the ingredients are easy to come by in the supermarket (I pick up lactose free cream from Sainsbury's), just make sure you use gluten free cornflakes if you are coeliac.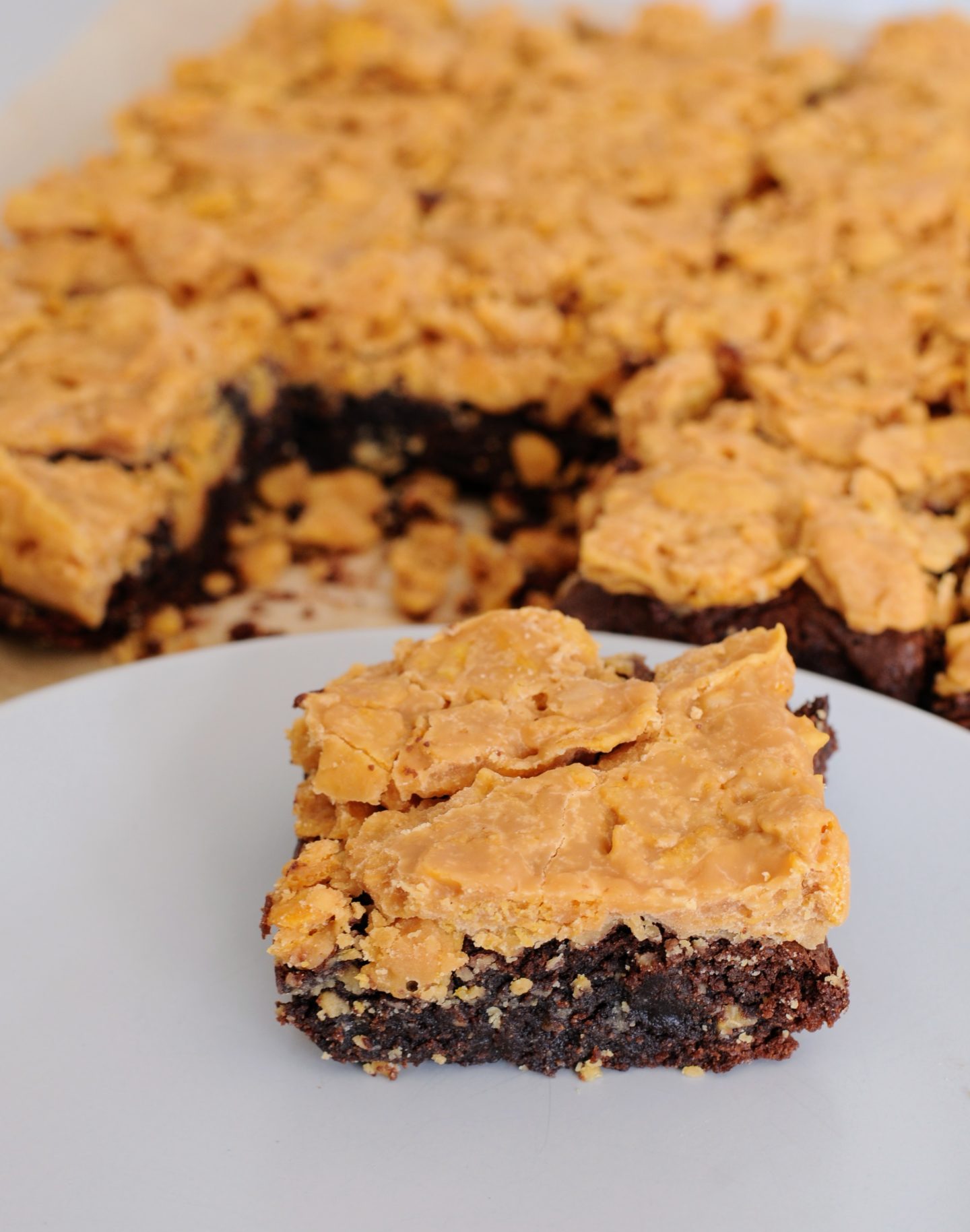 For this recipe you will need a 20x20cm baking tin, lined with greaseproof paper to make the brownies easy to remove. It also makes the washing up easier after baking! These brownies take slightly longer to make than your standard edition as they need to cool before adding the caramel cornflakes, and then they need time to set. I would avoid putting them in the fridge as this may solidify the caramel and might not be so kind to your teeth!
Cornflake Brownies
Ingredients
For the brownies:
200 g Butter or margarine
200 g Dark chocolate
3 Eggs
270 g Caster sugar
25 g Cocoa Powder
125 g Gluten free plain flour
For the cornflake topping:
175 g Caster sugar
100 ml Lactose-free cream
65 g Butter or margarine
80 g Cornflakes
Instructions
Preheat the oven to 180 degrees Celsius or gas mark 4. 

In a pan, carefully melt the butter and the dark chocolate and mix together. Put to one side to cool.

Whisk together the eggs and the sugar until light and fluffy using an electric whisk or stand mixer. Pour the chocolate mixture into the whisked eggs and sugar and fold.

Add your flour and cocoa powder and fold again. Pour the mixture into a lined 20x20cm tin.

Bake for 25-30 minutes, or until the middle no longer wobbles!

While the brownie cools, heat the caster sugar in a saucepan.

Stir occasionally to make sure the sugar cooks evenly. Once brown in colour, add the cream and butter (careful this may spit). Place back on a high heat and be patient, it will take around 10-15 minutes to form caramel. It will need to reach approx 120 degrees to form caramel.

Remove from the heat and stir in the cornflakes until covered. Pour the caramel cornflake mixture onto your brownies and leave to set. Once cool, cut the brownies into slabs.
As always, let me know if you give this bake a try. These were taste-tested by friends and family, like many of my recipes, and were very popular, I hope you enjoy them as much.
If you've enjoyed this recipe, I guarantee you will like my Salted Caramel Chocolate Brownies, check out the recipe here.
Happy brownie baking!
Alice x