As we come to the end of October and the clocks have changed I've been craving warm, hearty meals. I'm really not a fan of the shorter days and the colder weather, but meals like this make it that little bit more bearable!
Having been vegetarian prior to following the low FODMAP diet, I really do enjoy a few meat-free meals a week. Not only is it better for the planet, I actually find them a lot tastier! I much prefer tucking into a whole plate of vegetables as opposed to meat. This meal incorporates all that's good about veg with a range of textures and flavours.
I've made this recipe a couple of times now and it's one of my favourites! Just in time for Halloween too, you could always substitute the squash for pumpkin (or pretend it's pumpkin!) for a Halloween-inspired meal.
Butternut Squash & Sage Risotto
Servings: 4
Ingredients
1 Butternut squash
300 g Risotto rice (Arborio)
15 g Sage
175 ml White wine
2 tbsp Garlic-infused oil
½ Red chilli (Optional)
100g Cubetti di Pancetta (Optional)
50 g Parmesan
25 g Butter
1 l Vegetable stock (I used a Massel 7 stock cube)
Instructions
Preheat your oven to gas mark 7 or 200 degrees.

Peel and dice the butternut squash and spread out on an oven tray. Drizzle with garlic-infused oil, finely chopped sage and season well. Roast in the oven for 25 minutes until it softens. 

While the butternut squash roasts, fry the butter in a large pan with the finely chopped red chilli (optional). Add the risotto rice and wine and simmer on a low heat, stirring regularly.

Once the wine has evaporated, add the stock one ladle at a time. Stir the rice until the stock has been used up over a period of 20-25 minutes.

Once the squash is cooked, mash half of it into a puree and stir into the risotto with the sage and parmesan (add the cooked pancetta at this point if you wish).

Scatter with the remaining butternut squash cubes and serve.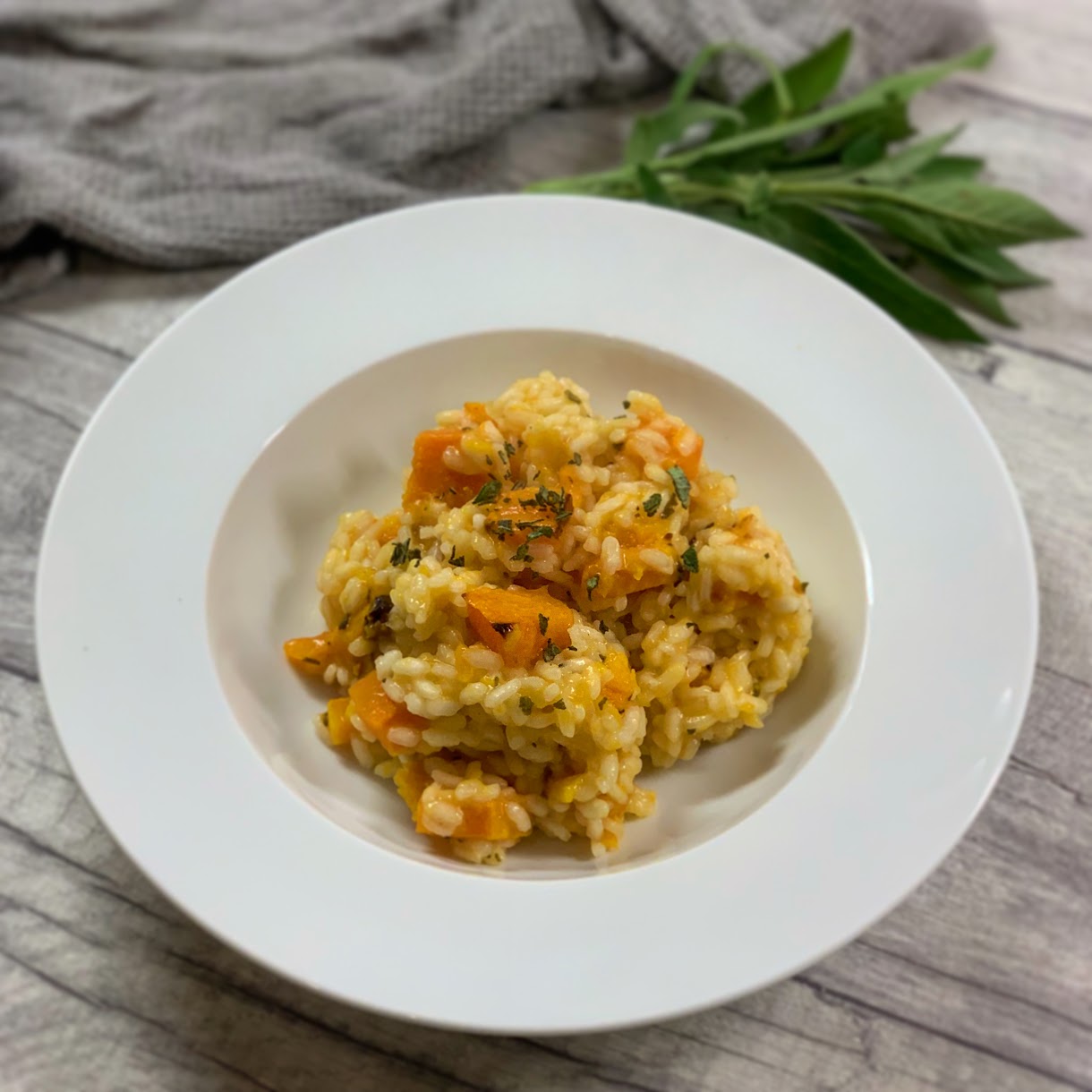 If you've enjoyed this recipe, you may like to try another of my risotto recipes such as my Seafood Risotto or another vegetarian recipe, such as this Roasted Vegetable Lasagne.
Let me know if you give this creamy risotto a try, I'd love to know what you think of it. Tag me on Instagram or comment below.
Alice x