Now that my Instagram is continuing to grow (thanks to all who follow me – I truly appreciate it) I'm often asked questions about the following the low FODMAP diet, in particular, how I manage to eat out.
It's so important to eat out, not only to have a night off cooking, but to socialise with friends, family and work colleagues or to just grab some food on the go.
Having followed the low FODMAP diet for a couple of years now, although my diet is personalised, I still struggle with gluten, onion, garlic and too much lactose which can be quite tricky to avoid in most restaurants. I do still struggle with other common intolerances such as apple, beans etc but these are usually easier to avoid. Below are my top tips, from my own experience, for eating out with food intolerances and/or allergies:
1.Contact the restaurant in advance
Unless I'm eating out at short notice, I'll always try to contact the restaurant beforehand to inform them of my allergies and intolerances. This gives them the opportunity to find alternatives or advise you if their sauces cannot be made without onion or garlic. This also allows you to not only decide where to eat, it also allows the best restaurants to stand out by providing pre-prepared menus highlighting all of the suitable options (Bacaro in Southampton are excellent at this – see my adapted meals below!)
2. Choose plain foods where possible
I've shared my food options below, but I often look for the plainest items on the menu, such as steak or fish as these are cooked fresh and usually easy to adapt. I then make sure I swap any sides to suit my taste and to ensure they are tummy-friendly. Be careful if any sauces, spices or dressings are used as 99% of the time these will contain onion or garlic. I used to be really shy about asking for any changes, but having been poorly after eating out, it's really worth asking.
3. Look at the online menu food beforehand
I never eat anywhere without looking at the menu online first. Partly because I love food, but mostly so that I can check that there are potential options for me to choose. I also find that if there is a gluten free or allergen menu I know that I will most likely be able to eat there as they are making the extra effort to cater for all diets. I know allergen information is a legal requirement, but it's always nice to know that they provide alternatives such as gluten free pizza bases, pasta or burger buns. It makes all the difference!
4. Don't be afraid to ask questions
Never feel pressured to order or to just risk it. While not all experiences in restaurants are good, you have every right to ask about the ingredients. I have had many rude encounters, most often you're dumped with some massive book/allergy folder to read through, despite it not highlighting whether items contain onion or garlic, so I always ask questions. I'll select a couple of menu items and ask if either can be made without such ingredients. Back to the old phrase, if you don't ask, you don't get. It's true. You'll be pleasantly surprised how accommodating most restaurants are, or even the chefs who quite enjoy cooking something off the menu or a little different from time to time.
5. Avoid fizzy drinks
Fizzy drinks, particularly sugary ones, are notoriously bad for tummies, I personally can't tolerate them, particularly when eating. They were one of the main reasons I used to suffer from cramps when I was younger which I shared in my post last year for IBS Awareness Month. I can have the odd gin/soda, but any coca colas or lemonades do not agree with me. When you're a little nervous about eating out these are more likely to cause trapped wind/bloating, so I'd avoid if you can. Tap water is always a winner…
6. Order Last
I find that ordering last means that all of the intolerances are likely to be remembered and relayed to the chef straight away. If you're with a large group, there's lots to remember, lots of interruptions and mistakes can easily be made. It also means I can talk quietly to the server without having to relay all of my intolerances in front of lots of people while they wait to order.
7. MOST IMPORTANTLY – double check what you've been served.
Pretty self-explanatory but so important. If you're ever unsure, there's a mystery sauce or dressing or you're just feeling nervous, it's always worth checking and double-checking. You can then relax and really enjoy your low FODMAP meal out.
As I've been on the low FODMAP diet a while now, I've compiled a list of restaurants I've eaten at (which is linked to an Instagram post with a brief review of each meal – just click on the descriptions). I thought you might find this helpful for chain restaurants, or if you are in Southampton and the surrounding area. I've arranged them alphabetically as it ended up being quite an extensive list!
List of restaurants where I have managed to eat out on a low FODMAP diet.
Please note that while I always request gluten free food, this does not mean they are safe for coeliacs.

Bacaro, Southampton – Small plates including sea bass, red mullet. They even provided an amended menu with all of my options.
Belgium & Blues, Southampton – Beef brisket gluten free burger.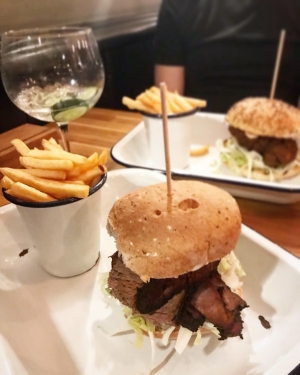 Bill's, Southampton – brunch (eggs on toast, full English, veggie etc)
The Bridge, Shawford (Chef and Brewer) – Chef's seasonal garden bowl with salmon.
Byron Burger, Southampton – Gluten free Byron burger.
Cafe Giardino, Southampton – Jacket potato with tuna mayonnaise.
Cafe Winchester, Winchester – GF brie, bacon and tomato toastie with a slice of cappuccino cake.
Carluccio's, Southampton/Portsmouth – Breakfast, Carbonara, Rigatoni Vongole & Lobster Rigatoni.
Cote Brasserie, Winchester – Steak & frites
Fishers Pond, Winchester (part of the Vintage Inns) – Steak and chips.
Forte Kitchen, Winchester – Gluten free ham and cheese toastie.
The Garden Society (The Orangery), Southampton – Bacon & avocado salad.
GBK, Southampton – Cheese & bacon burger.
Giraffe, Basingstoke – Full English (no gf toast available).
Halladay's Tearooms, Southampton – Breakfast/brunch
Harbar on Sixth, Southampton Harbour Hotel – Salmon salad
Harby's Bar & Diner, Brighton Harbour Hotel – Steak and chips, cod and crushed new potatoes.
Honest Burgers, Brixton/Reading – Honest burger (GF) with rosemary fries, Tribute burger.
The Ivy, Winchester – Steak and chips followed by a chocolate bombe.
The Jetty, Southampton Harbour Hotel – Red Mullet
Josie's, Bishops Waltham – my favourite brunch spot! Vegetarian breakfast, Eggs Royale, Eggs florentine & Poached eggs with all the sides.
Keats Restaurant, Romsey – Mussels and sea bream.
La Baronia, Southampton – Low FODMAP steak trips with gluten free fajitas, nachos.
Lakaz Maman, Southampton – breakfast/dinner. Click here to read a separate blog post on this restaurant.
Loch Fyne, Portsmouth – Pan-fried hake.
The Lyndhurst Tea House, Lyndhurst – Full English Breakfast
Mettricks, Southampton – Cheese and ham toasted GF sandwich, jacket potato with ham hock and a fried egg.
The Old Forge, Otterbourne – Rib-eye steak and chips followed by a GF chocolate brownie.
Piccolo Mondo, Southampton – Pasta (takeaway).
Pizza Express, Southampton/Basingstoke – it's probably quicker to say what I haven't eaten here, it's a regular! Click here to read a separate blog post on my experiences.
Pizza Hut, Southampton – GF pizza topped with unseasoned tomato sauce, bacon, peppers and sweetcorn.
Red Dog Saloon, Southampton – Deconstructed cheesesteak and chips.
Regginas, Botley – Cod provencal
The Rockstone, Southampton – A chicken burger in a gluten free bun.
Riverstation, Bristol – Sirloin steak and chips followed by a chocolate dessert.
Stable, Southampton – Pizza (sauce may contain onion/garlic – I can't remember!)
Stakks, Southampton – GF pancakes
Steam Town Brew Co., Eastleigh – Gluten free burger and fries.
Spot in the Woods, The New Forest (nr Southampton) – Gammon, egg and chips.
TGI Friday's, Southampton – Gluten free burger.
Trading Post Coffee Roasters, Brighton – GF bacon sandwich
Turtle Bay, Winchester – Salmon with plantain and rice.
Zizzi, Southampton – I have eaten here numerous times and have enjoyed their pizzas, pastas (made with the pizza base sauce) and fish skewers aka Spiedini Pescatore.
I hope you find this guide helpful, and that it gives you a little more confidence to eat out. If you have any other tips I haven't mentioned, please do share these in the comments below. I sometimes read that people have been put off eating out after a bad experience, but I want you to know that for every bad meal, there are plenty more restaurants which will serve you a delicious, tummy-friendly dinner which will be so worth it!
Alice x