This is one of the first recipes I've shared which I never actually made before going Low FODMAP. I often say my recipes taste just as good without onion and garlic, however I honestly can't remember what it used to taste like as I haven't eaten it for years! Although I can say that it tastes really, really good!
What I love about this recipe is that is makes four generous portions, and it's great for heating up at work the next day. Low FODMAP lunches are always a challenge for me so I often batch cook or make the most of leftovers (I even sourced a microwave at work so I could enjoy hot meals!)The potato is an optional addition to make it that much more feeling, it tastes similar either way, but I think it makes me full for that little bit longer.
Low FODMAP Moussaka
Ingredients
3 Aubergines
500 g Quorn mince (or beef mince if you prefer)
5 tbsp Garlic-infused oil
400 g Chopped tomatoes
175 ml Red wine
1 tsp Ground cinnamon
3 tsp Oregano
½ tsp Asafoetida
1 tbsp Tomato puree
2 tsp Light brown sugar
1 Courgette (finely chopped)
3 Potatoes (optional)
40 g Gluten free plain flour
40 g Butter
450 ml Lactose-free milk
40 g Parmesan
1 Egg (beaten)
Instructions
Preheat the oven to 200 degrees Celsius.

Slice the aubergines into 5mm rounds and place on a baking tray. Drizzle with garlic infused oil and bake for 15-20 minutes until golden. Alternatively you can fry the aubergine for a few minutes on each side.

In a large pan, heat 1 tbsp garlic-infused oil and add the mince and courgette.

Add the red wine and simmer, then stir in the oregano, cinnamon and asafoetida.

Once the wine has reduced, add the chopped tomatoes, tomato puree and light brown sugar. Leave to simmer for 15 minutes.

Optional: if adding a layer of potato, slice these thinly and par-boil for 7 minutes.

To make the white sauce, add the flour, butter and milk to a pan and heat gently while stirring continuously. Once the sauce has thickened, stir in the parmesan.

To prepare the moussaka, in a large ovenproof dish add half of the mince mixture and top with a layer of potato and aubergine slices.

Add the remaining mince mixture and top with the remaining potato and aubergine slices.

Whisk an egg into the white sauce and then pour this over the top of the moussaka. Smooth and top with a sprinkle of parmesan. Bake for 40 minutes, or until golden brown.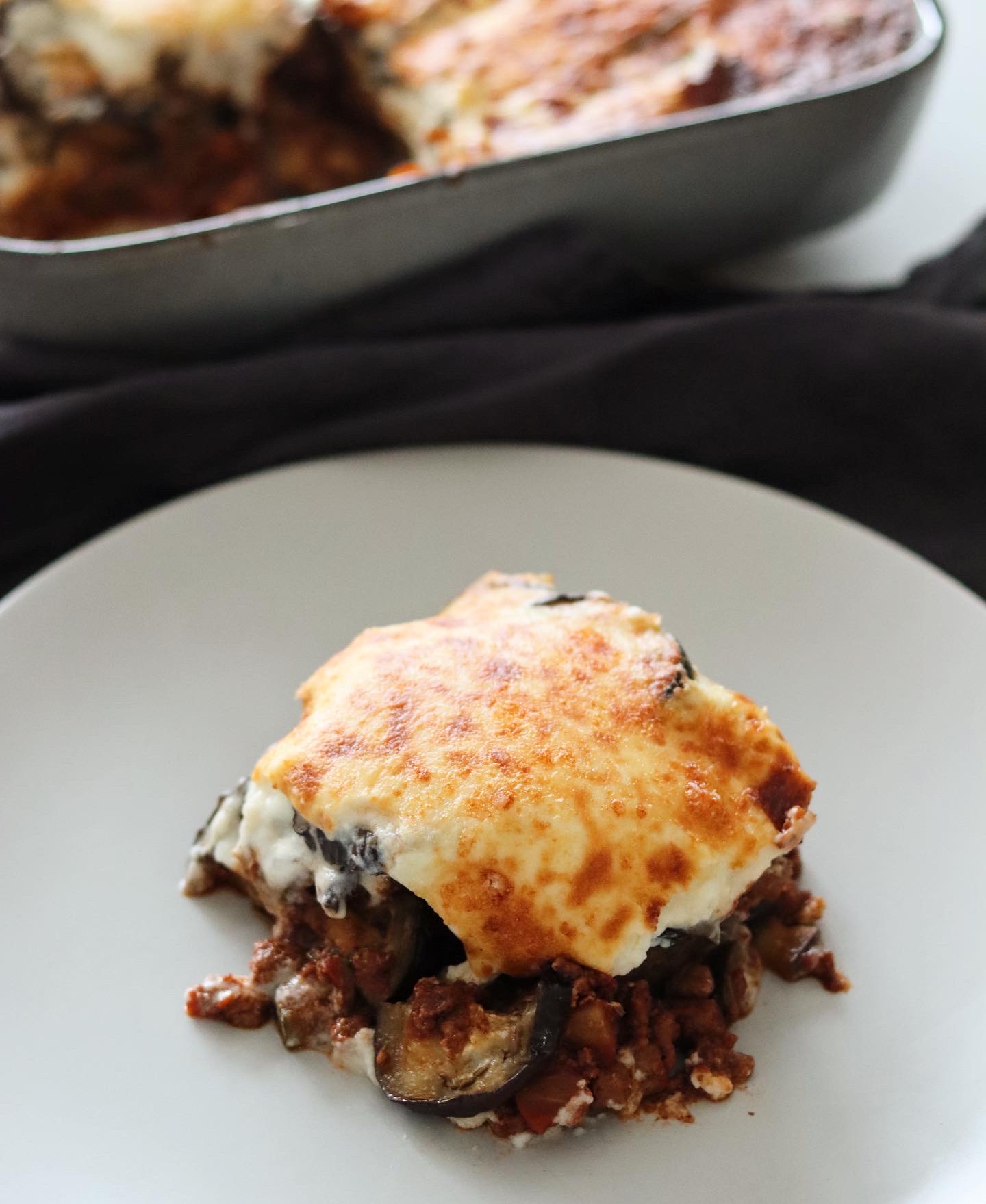 If you've enjoyed this recipe, then I presume you must like aubergine – if so – you must try my Stuffed Aubergines, they are delicious! You might also like my Aubergine Parmigiana or this Quorn lasagne, I love to cook with veggie mince as it's easy to cook, store and reheat. It's also reasonably priced too!
Let me know if you give it a try…
Happy cooking,
Alice x