This is such a nostalgic bake for me as if I were ever to have a school dinner, I would always get myself a slice of Old School Cake for pudding. It's such a simple bake yet it's so tasty! The recipe below is made using a 20cm x 20cm square brownie tin as I wasn't going to buy a tray just for this bake – I honestly don't think I could shut the kitchen drawer if I bought any more!
For this recipe, I used 100s and 1000s or sprinkles from Tesco which are naturally gluten free linked here. You could use any sprinkles to top the cake, or even add some colour to the icing if you fancied it. I might make a brightly coloured one next time just to see how it turns out!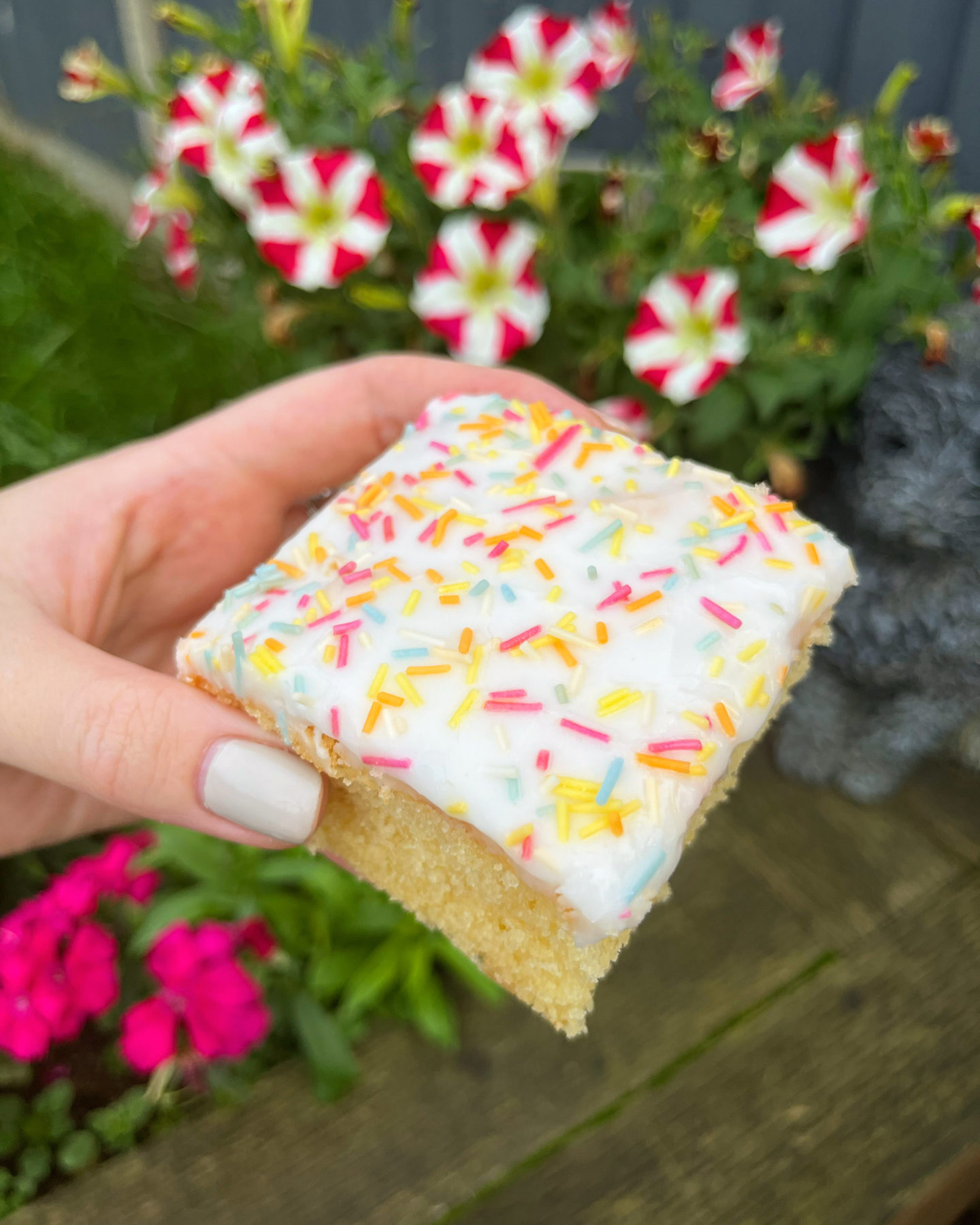 To make a bake that resembles Old School Cake I always trim off the edge pieces so each piece is identical and moist! This is entirely up to you, but I always enjoy the very middle piece of a brownie or tray bake, and this way, they are all middle pieces.
Old School Cake
Ingredients
225 g Butter
225 g Caster sugar
225 g Gluten free self-raising flour
4 Eggs
½ tsp Vanilla extract
½ tsp Baking powder
275 g Icing sugar
4 tbsp Water
100s and 100s (or other gluten free sprinkles)
Instructions
Preheat the oven to 180 degrees Celsius or gas mark 4.

Line a 20cm x 20cm square tin with baking paper.

Cream the butter and sugar together in a mixing bowl. Add the eggs, vanilla extract, baking powder and the flour gradually, folding as you go. 

Pour the mixture into the tin and bake for 35-40 minutes or until a cake tester comes out clean.

Leave the cake to cool before placing on a cooling rack.

Mix together the icing sugar and water and pour onto the cake, topping generously with sprinkles. Leave to set.

Carefully trim off the edges to make a neat square and slice into 9 even pieces.
If you enjoy this recipe, you might also like to try these classic Iced Fairy Cakes or these Funfetti Cookies, as they're packed full of sprinkles.
As always, let me know if you give this bake a try. I hope you enjoy it!
Happy baking,
Alice x