If you've been following me for a while, you'll know I'm all about a weekend breakfast or brunch, featuring eggs, pancakes, waffles – you name it! I've always found it more difficult to come up with weekday breakfasts which I actually look forward to, or can be used as snacks throughout the day. I'm also trying to incorporate a little more fruit and fibre into my diet to help with IBS-C symptoms I've experienced during the lockdown (I think it's all down to the reduced movement – I'd normally be exceeding 10,000 steps at school). I do go for a daily walk, and try and complete 30 minutes of yoga or a quick cycle on an indoor exercise bike, but it's not quite the same I don't think!
These Orange Breakfast Muffins are quick to make and taste lovely on their own, or with a little added lactose-free yoghurt on the side. You could also try incorporating other fruits, I might try a blueberry version next, watch this space!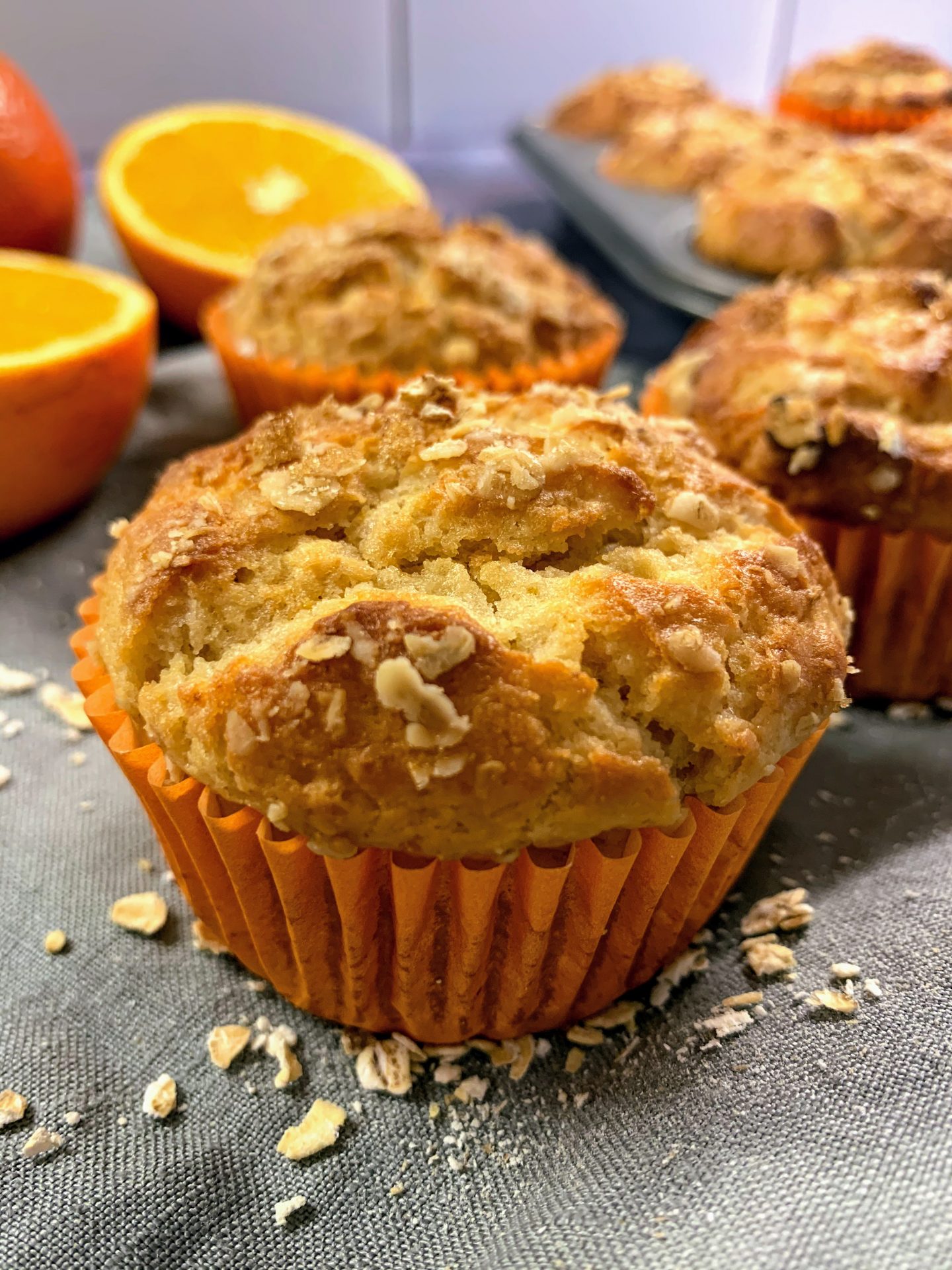 The muffins will keep for around 3-5 days in an airtight container, although they do go a little moist after this point (still edible, just not quite as nice to bite into!) You could however freeze them to enjoy at a later date! Make sure they have cooled right down, pop into an airtight container or freezer bag, then freeze for up to three months. Then, take a muffin out the freezer the night before you want to eat it.
Note: If you are coeliac, make sure you use gluten free oats (if you are just low FODMAP there is no risk of cross contamination for us, so we can eat standard porridge oats).
Orange Breakfast Muffins
Ingredients
225 g Gluten free self-raising flour
110 ml Sunflower oil
2 Eggs
125 g Light brown sugar
200 g Lactose-free yoghurt
65 g Oats
1 Orange (zest and juice)
Instructions
Preheat the oven to gas mark 6 or 200 degrees Celsius.

In a large bowl, mix together the eggs, light brown sugar and sunflower oil.

Gradually fold in the gluten free self-raising flour, oats, orange zest, orange juice and lactose-free yoghurt.

Place the mixture into a muffin cases in a baking tray then sprinkle with a little light brown sugar and oats.

Bake for 15-20 minutes or until golden.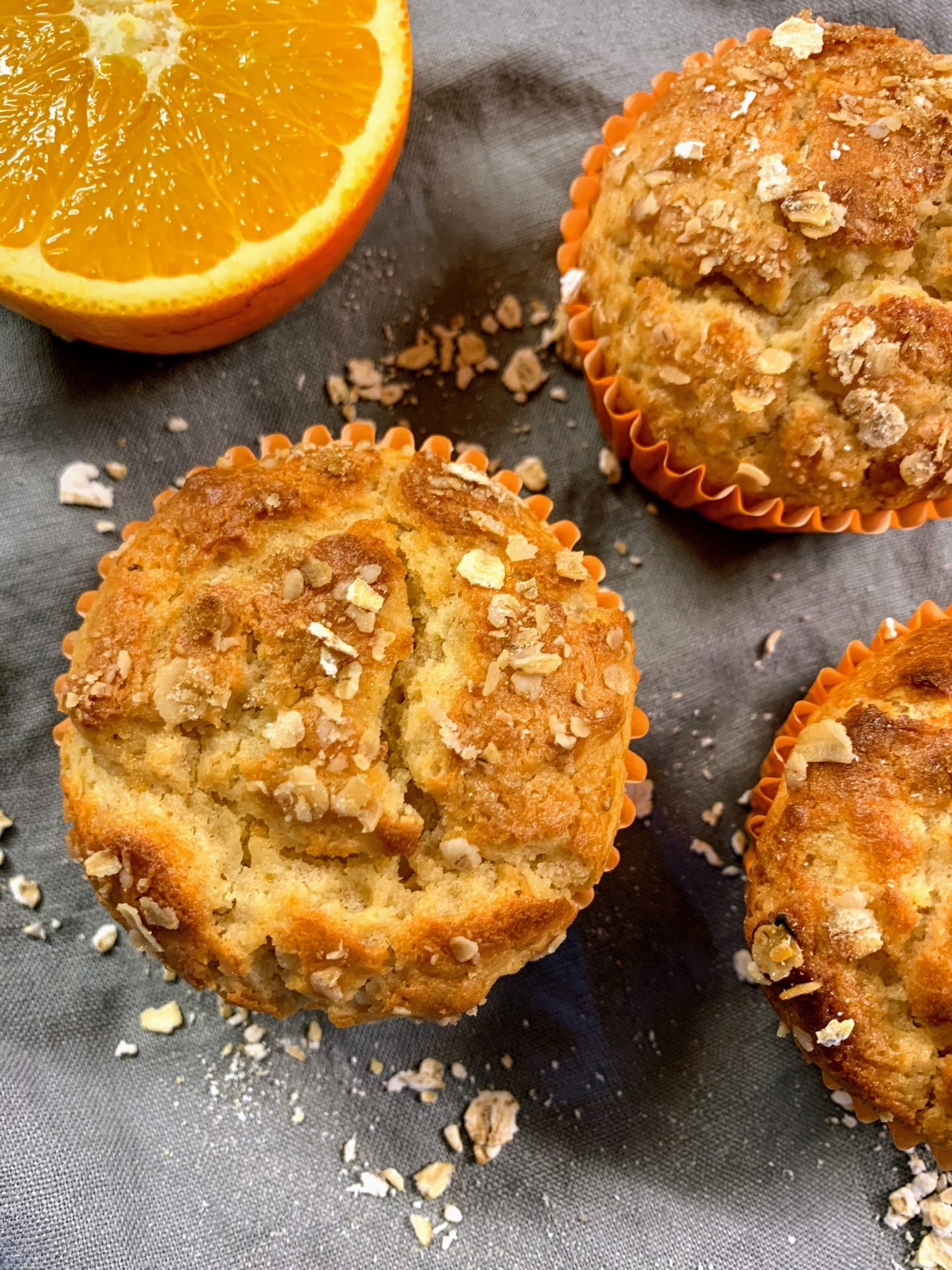 Let me know if you give these Orange Breakfast Muffins a try, I hope you enjoy them! Tag me in your images on Instagram or send them to me via email if you prefer! I love seeing your bakes!
If you've enjoyed this recipe, you might also like to try some of my other breakfast recipes including this Low FODMAP Homemade Granola, French Toast, or these Baked Banana Breakfast Bars.
Also, if you'd like to check out my e-book, 'A Beginner's Guide to the Low FODMAP Diet' with over 40 recipes, and my own tips for following a low FODMAP diet, click here!
Happy breakfast baking,
Alice x