AD
In my recent parcel from Circulon, I was sent a range of frying pans including a 22cm pan from their momentum range. I have been so impressed with these pans as they are completely non-stick, high quality and so easy to wash up (which for me is a huge bonus!) Using the pan I came up with a recipe for gluten free, low FODMAP, vegetarian arancini. Stuffed with tomato and mozzarella, these are an indulgent starter or delicious main course served with a side salad.
For this recipe I used a saute pan to cook the risotto (featured in my Moroccan Chicken recipe) as well as a small 22cm frying pan which is sold in a convenient two-pack. This recipe is very cheesy so go careful if you're on the elimination phase of the low FODMAP diet. I'm quite lactose-intolerance but managed these fine (but of course we are all different!) The recipe below should make approximately 10 arancini balls.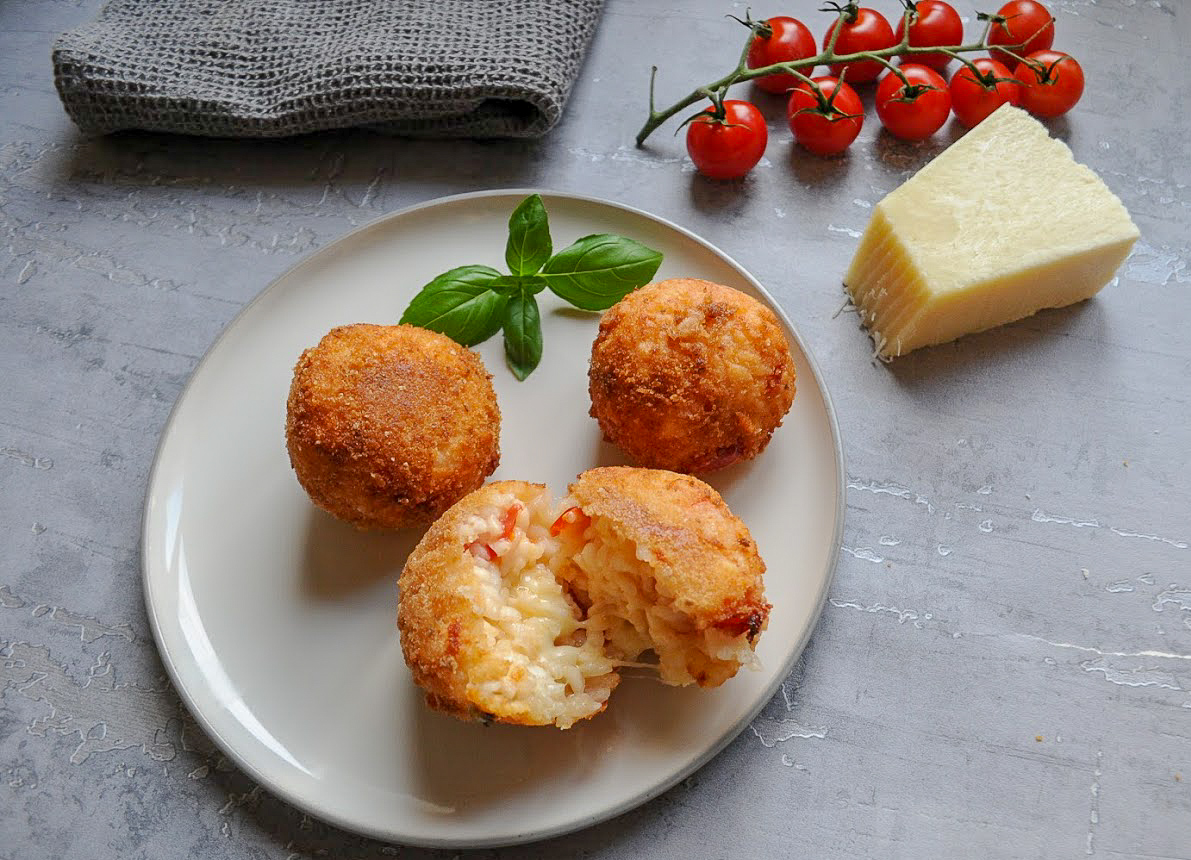 Tomato & Mozzarella Arancini
Ingredients
15 g Butter
1 tbsp Garlic-infused oil
300 g Risotto rice
175 ml White wine
500 ml Chicken stock (I used a Massel stock cube)
100 g Cherry tomatoes (finely chopped)
50 g Parmesan
50 g Mozzarella
2 Slices of gluten free white bread
15 g Basil
1 Egg
50 g Gluten free plain flour
Instructions
In a large pan, heat the butter and garlic-infused oil.

Add the risotto rice and stir well. Pour in the white wine and simmer gently.

Gradually add the chicken stock, one ladle at a time, while stirring the risotto rice. As each ladle is absorbed by the rice, add another. This can take about 20 minutes until the rice is cooked!

Once the rice begins to expand, add the finely chopped cherry tomatoes. 

Add the basil and parmesan once the risotto is cooked and remove it from the heat.

Spread out the risotto rice in a large metal tray to cool it down quickly.

Once cool, shape the mixture into small balls. Create an indentation and stuff with mozzarella (so that this melts in the middle) and remould into a ball.

Heat the 22cm pan filled halfway with oil.

Dip the arancini ball into egg, then flour and finally breadcrumbs before adding carefully to the hot oil.

Cook for 4 minutes turning occasionally, before placing on kitchen towel to dry up any excess oil.

Serve with a side salad or tomato based dip.
I hope you enjoy making this recipe, I love seeing your creations so feel free to tag me on Instagram (@lowfodmapinspiration). If you'd like to see my other reviews of the Circulon momentum range, take a look at my recipes for Breakfast Frittata and Moroccan Chicken.

Alice x
This is a sponsored post in partnership with Circulon #pansforlife