Throughout January I decided to challenge myself in following a pescatarian, low FODMAP diet. I'm always looking for ways to introduce more variety into my diet, and this was the perfect opportunity. I've actually been pescatarian for 10 years previously, so I thought it would be pretty easy to follow, but avoiding onion and garlic is really quite challenging (especially when restricting myself further!)
One of my favourite meals of the month was this Seafood Paella. It was the first ever Paella I've made and the first time I've ever cooked clams or mussels… And it was so tasty! It takes a little planning as I used fresh clams, mussels and king prawns for an authentic taste of the sea, so you may want to pop to the supermarket beforehand. I don't know if this affects anyone else but I have an exaggerated fear of food poisoning (I think it's having suffered from so many flare ups), so I always relax in knowing that they are fresh that day. A few of the ingredients are optional, purely because I didn't want to spend a small fortune on a pinch of saffron, but my boyfriend insists it's needed! You'll have to let me know if you agree with that one!
Seafood Paella
Ingredients
250 g Spanish paella rice
90 g Anchovies in olive oil (tinned)
1 Red pepper, diced
150 g Chopped tomatoes
1 Lemon
½ tsp Chilli flakes
15 g Parsley, finely chopped
2 tsp Paprika
750 ml Hot water (vegetable stock cube optional)
400 g Fresh mussels
400 g Fresh clams
165 g Raw easy peel king prawns
1 Handful of peas or finely chopped green beans
1 Pinch of saffron (optional)
Instructions
Firstly add the anchovies to a pan and stir until these reduce into a stock on a medium heat.

Add the red pepper, paella rice, chilli flakes, chopped tomatoes, paprika, peas or green beans and top with the lemon (quartered), and gradually add the boiling water.

Leave to simmer for 15 minutes, stirring occasionally or until the rice is cooked.

Add the seafood (prawns, mussels and clams) and stir well.

Continue cooking until the mussels and clams open, and the prawns are pink in colour. This should take approximately 4 minutes.

Sprinkle with chopped parsley and serve.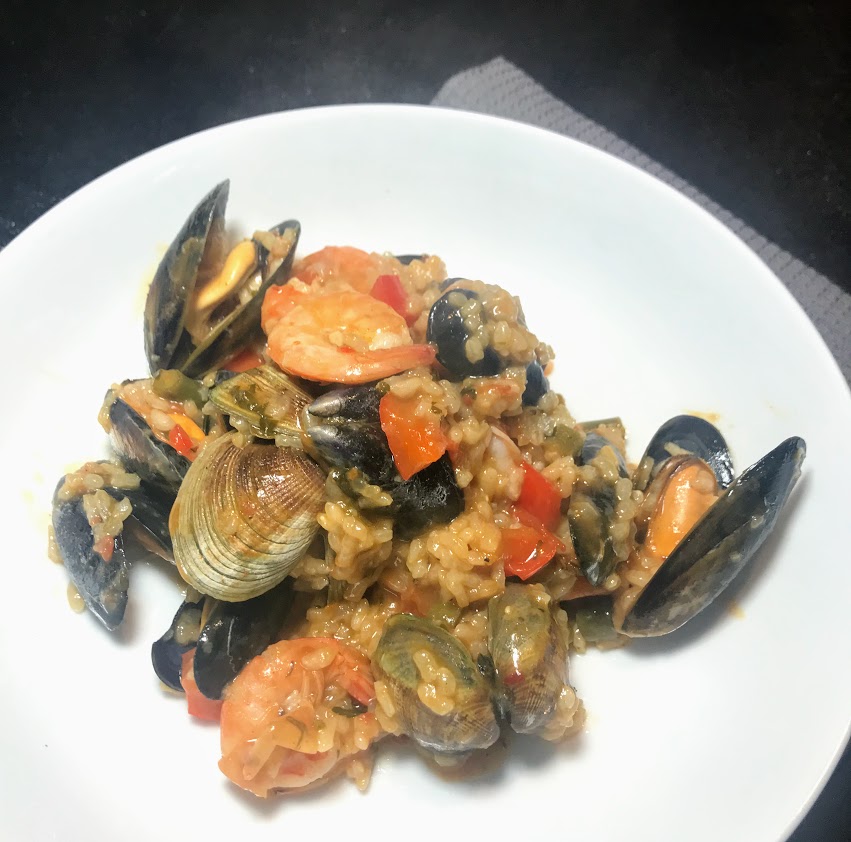 If you give this paella a try, let me know by tagging me on Instagram or commenting below, I love to see you enjoying my recipes.
Alice x