During the last few months there have been so many fantastic additions to the free from aisles, particularly from Genius Gluten Free. You may have seen my earlier post featuring the new brioche buns with a low FODMAP burger recipe (if you haven't, you can check it out here), but now Genius have also brought out plain white wraps, which have inspired me to recreate a number of delicious recipes. From quesadillas to enchiladas, there are so many ways to enjoy these new wraps. I've shared three low FODMAP, gluten free recipes below, and I hope you feel inspired to give them a try!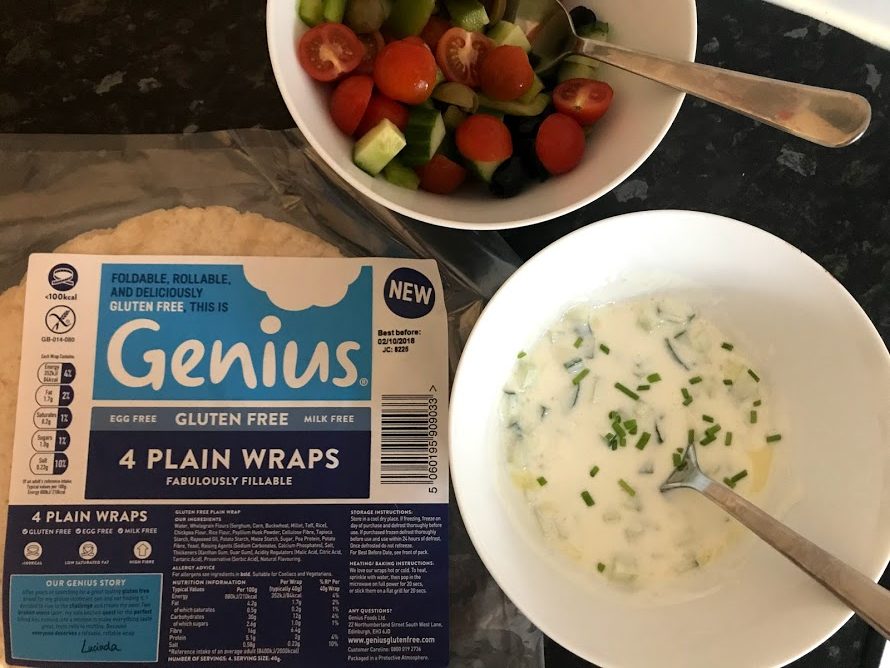 Please note that the Genius Gluten Free Plain Wraps contain chickpea flour. The recipes below are therefore not suitable for the elimination phase of the low FODMAP diet, but are ideal for the personalisation stage. I have not personally had any digestive issues with the wraps but, of course, everyone is different. 
The wraps are available from Sainsbury's, Ocado and Asda in the free from aisles.
Chicken Quaesdillas
The first recipe I couldn't wait to try were Mexican quesadillas. I used to have these every year for my birthday at TGI Friday's as I just loved the flavour combination. I have recreated them below using the Genius gluten free wraps and added a FODMAP friendly spiced Mexican rice to accompany them. Having never attempted to make my own quesadillas before, I was surprised by how easy they were to make, and how tasty they ended up. I can't wait to make them again.
Chicken Quesadillas
Servings: 2
Ingredients
50 g Leftover roast chicken (shredded)
1 Green pepper (sliced)
1 Yellow pepper (sliced)
1 Red pepper (sliced)
½ tsp Ground cumin
½ tsp Oregano
1 tbsp Spring onion (green tips)
150 g Grated cheddar cheese (lactose-free)
3 Genius Gluten Free Plain Wraps
For the Mexican rice:
250 g Microwaveable white rice
1 tsp Ground Cumin
¼ Red pepper (finely chopped)
1 tbsp Tomato puree
¼ tsp Chilli flakes
To serve:
2 tbsp Sour cream
2 tsp Chives (finely chopped)
1 Avocado (mashed)
¼ tsp Chilli flakes
Instructions
Heat the oil in a large frying pan and add the peppers, spring onion and spices. Cook until soft.

Add the cooked chicken and heat until it is piping hot.

In a separate pan, add one 1 wrap, and then on one half, add a handful of cheese and a couple of spoonfuls of the spiced chicken and peppers. Top with a little more cheese and fold the wrap in half.

Cook for three minutes on each side, then slice in half to make two quesadilla wedges. Repeat this twice more so that you have three quesadillas per person.

Prepare the Mexican spiced rice by adding all of the ingredients to a saucepan and mixing until heated through. You may need to add a little boiled water if it begins to dry slightly.

Serve with crushed avocado sprinkled with chilli flakes and sour cream topped with chives.
Greek Chicken & Halloumi Wraps
Having travelled to Greece a couple of times now, I decided to make my own low FODMAP greek wraps to enjoy at home incorporating those signature flavours: lemon chicken, grilled halloumi, greek salad and homemade tzatziki. A great combination which can easily be made vegetarian too!
Greek Chicken Wraps
Servings: 2
Ingredients
1 tbsp Garlic-infused oil
1 tsp Dried oregano
Juice of half a lemon
320 g Chicken fillets
225 g Halloumi
2 Genius Gluten Free White Wraps
For the tzatziki:
¼ Cucumber (diced finely)
100 g Lactose-free natural yoghurt
1 tsp Garlic-infused oil
For the Greek salad:
½ Cucumber
200 g Cherry tomatoes
½ Green pepper
50 g Mixed green and black olives
Instructions
Heat the garlic-infused oil and add the chicken, lemon juice, oregano and season well. While the chicken is cooking, prepare your Greek salad and tzatziki.

For the Greek salad, finely chop all of the ingredients and mix together in a bowl. To make the tzatziki, chop the cucumber into very fine pieces and mix with the yoghurt and garlic-infused oil. Sprinkle with finely chopped chives to decorate.

Once the chicken is almost ready, fry the halloumi in a separate pan. Cooking halloumi does not require any oil as it will cook in its own juices.

To make the wraps, add the chicken, then the halloumi and finally top with greek salad and tzatziki in the centre of each Genius wrap. Fold each end inwards, then roll to create the perfect wrap. Cut in half down and use bamboo skewers to hold their shape, showcasing all of the delicious filling.

Serve with any leftover salad and tzatziki for dipping!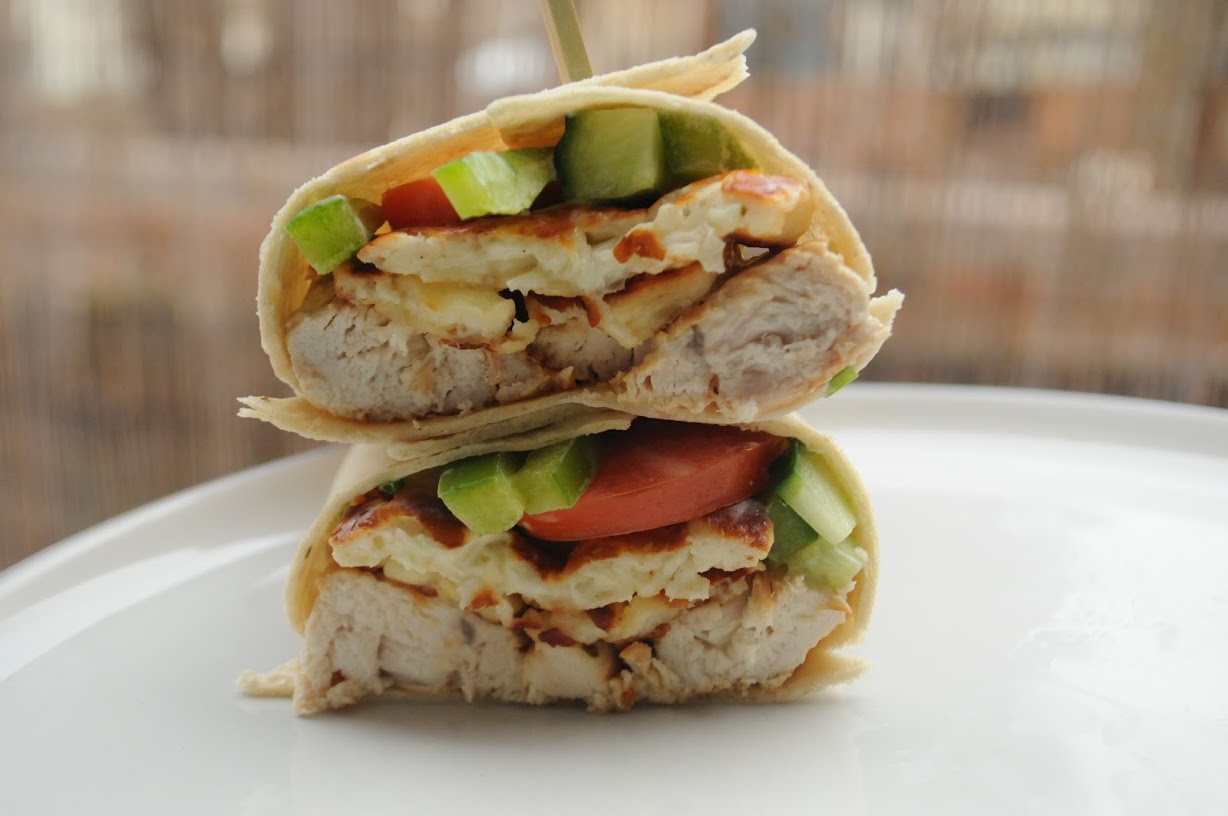 Chicken Enchiladas
Last, but by no means least, are my baked chicken enchiladas, smothered in cheese, tomato sauce and lots of Mexican flavours. I was feeling particularly hungry when I made these so I served them with a dish of nachos topped with cheese and jalapenos, and a simple salad – delicious. The perfect Friday night fakeaway!
Chicken Enchiladas
Servings: 4
Ingredients
640 g Chicken breast
500 g Tomato passata
½ Red pepper
100 g Grated mature cheddar cheese (lactose-free)
1 tsp Ground cumin
1 tsp Smoked paprika
½ tsp Chilli flakes
2 tbsp Green tips of spring onion (shredded)
1 tbsp Garlic-infused oil
100 ml Sour cream
4 Genius Gluten Free White Wraps
Instructions
Preheat the oven to 190 degrees or Gas Mark 5.

Heat the garlic-infused oil in a pan, add the chicken and stir fry for a few minutes until golden.

In a separate pan, add a little oil and fry the red pepper until soft.

Add the tomato passata, cumin, smoked paprika, chilli flakes and half of the green tips of the spring onion. Season and cook for a few minutes.

Pour half of the sauce onto the chicken and mix together.

To prepare the enchiladas, add two heaped spoonfuls of chicken to each Genius wrap and roll up.

Place the wraps, with the fold facing downwards, in an ovenproof dish (I used a lasagne dish) then top with the remaining tomato sauce.

Pour sour cream over the centre of the enchiladas followed by the grated cheese and bake in the oven for 15-20 minutes, or until golden and bubbling.

Sprinkle over the leftover green tips of spring onions and serve.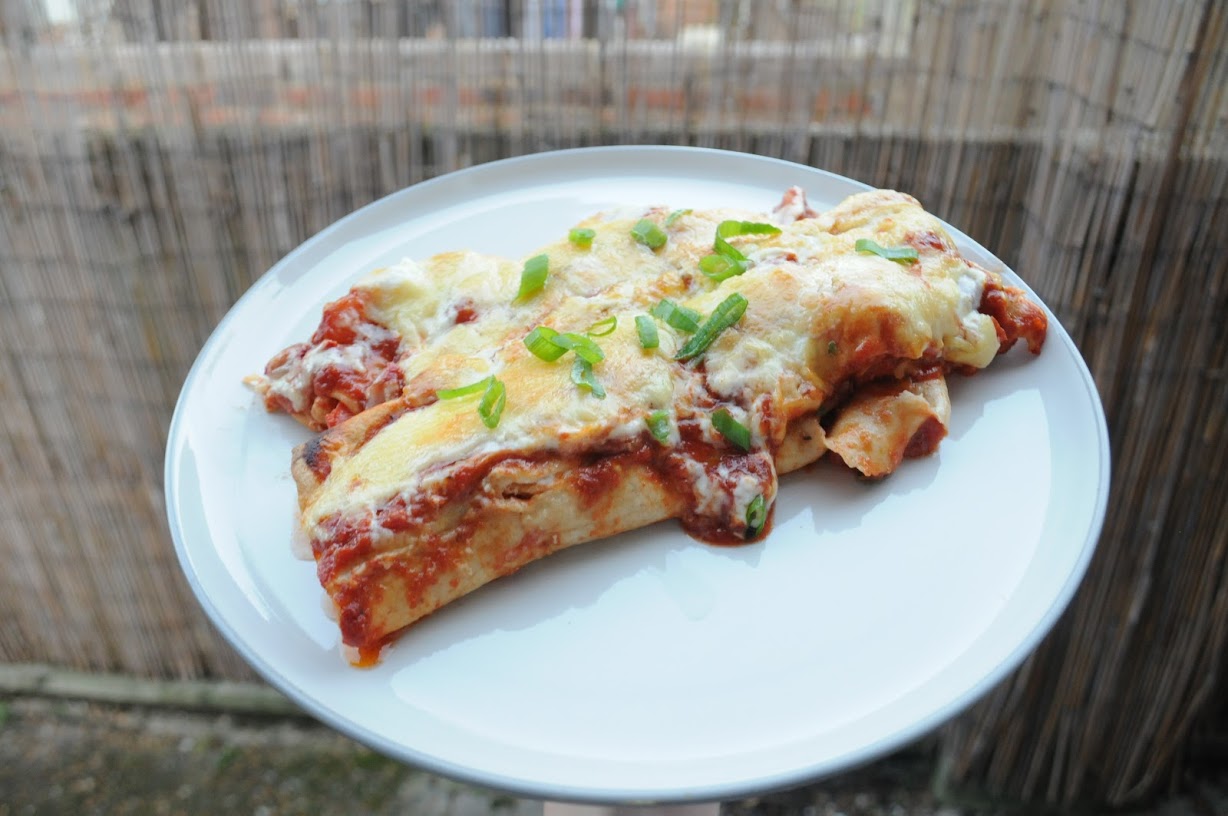 I hope these recipes have inspired you to try these new wraps, and as always, let me know if you make any of the recipes by tagging me on Instagram, Facebook or Twitter, or leave a comment below.
Alice x
This is a sponsored post in partnership with Genius Gluten Free (@geniusglutenfree).