If you've followed my blog and social media accounts for a while you'll know that I LOVE a good burger, I mean, who doesn't?!? When I saw that National Burger Day was coming up (23rd August), I decided to come up with my own low FODMAP burger recipe to serve in the new Genius Gluten Free Brioche Burger Buns. If you haven't tried them yet, they're one of the new exciting products from Genius which are gluten, wheat and milk free, ideal for those of us with food intolerances. For a full list of ingredients click here.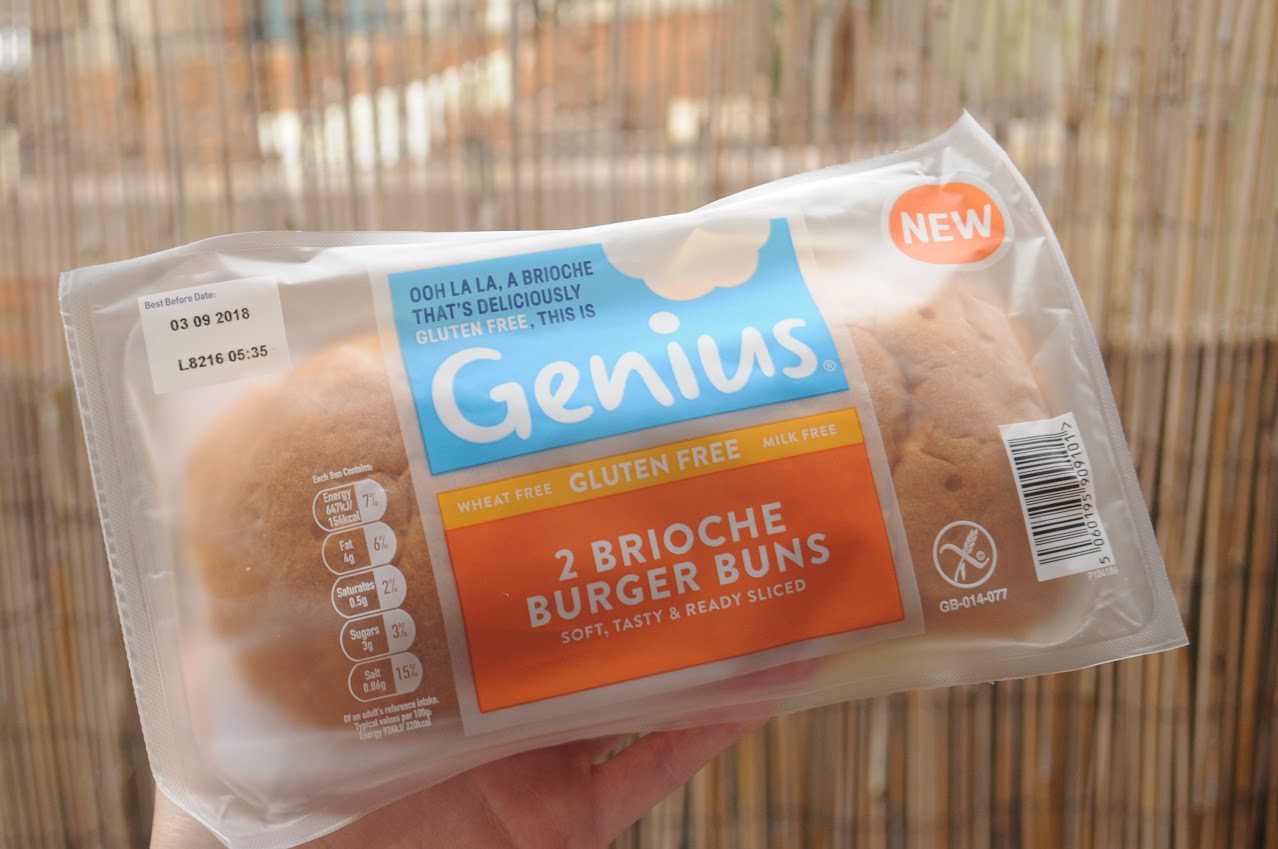 The recipe for the low FODMAP burgers is pretty straight forward so if, like me, you're fed up of checking the ingredients of every burger in the supermarket, to then be left with a single option that doesn't contain onion, garlic, or mysterious flavourings, then why not give these a go. They contain herbs, spices and even ketchup and despite being low FODMAP they are packed full of flavour.
Not only have I shared a burger recipe, I've also come up with a low FODMAP burger sauce to go with them. I honestly can't remember the last time I had burger sauce and it was SO good…
Print Recipe
Homemade Low FODMAP Burgers
Servings: 4
Ingredients
For the beef burgers:
500 g Beef Mince (I used 12% fat)
2 tbsp Chopped Parsley
2 ½ tbsp Gluten Free Breadcrumbs (I used a slice of Genius Toastie bread)
½ tsp Chilli Flakes
1 tsp Paprika
1 tsp Mixed Dried Herbs
1 tsp Mustard Powder
1 Egg (beaten)
1 tbsp Tomato Ketchup
Salt & Pepper to season
1 Beef Tomato
4 Cheese slices
1 Round Lettuce
4 Genius Brioche Burger Buns
For the burger sauce:
6 tbsp Mayonnaise
2 tbsp Tomato Ketchup
2 slices Sweet Cucumbers/Gherkins (pickled)
¼ tsp Mustard Powder
A sprinkle of Asafoetida
Instructions
Place all of the ingredients for the beef burgers into a large mixing bowl, and using one hand, mix the mince with all of the spices and flavourings.

Using two hands, shape the mince mixture into four circular patties. Place on a plate and cover with cling film to rest for an hour or so.

To prepare the burger sauce, add all of the ingredients to a food processor and once all of gherkin is in small pieces, place in the fridge for later.

When you're ready to cook, place the burgers onto a grill, or fry in a pan with a little oil for around 10-15 minutes.

Once the burgers are almost cooked, place the slices of cheese on top of the burgers to melt.

Prepare your burger. Toast the Genius Gluten Free Brioche Buns slightly. Then start by placing lettuce, followed by the beef burger, cheese, beef tomato slice, and spread the burger sauce on the bun lid before placing on top! Enjoy with a bowl of fries or fresh salad.
The burgers are juicy and flavourful, the sauce adds the vinegary kick from the gherkins, while the buns are light and not too filling, and of course there's cheese! If you haven't tried the Genius brioche burger buns before I'd definitely recommend picking up some from Asda or Ocado as they have an almost identical texture and taste to a gluten-containing bun and stay together, even when the burger juices fight back!
As the beef burgers are made from scratch, you can add or change any of the flavourings dependent on what you fancy. You could try adding Worcestershire sauce, nutmeg, curry powder, ground ginger, Tabasco sauce (if you like a bit of spice) or even some mixed peppers. You can then top them with a bit of avocado, bacon, a fried egg or a little bit of everything. That's what I love about this burger as it can become whatever you feel like on the day. What's your all-time favourite burger filling? Let me know in the comments below, or even better, let me know if you give these homemade burgers a try, after all it is National Burger Day!
Alice x
This is a sponsored post in partnership with Genius Gluten Free (@geniusglutenfree).