While I've been on school holidays for the past few weeks, I've realised the importance of saving money for the time off! When I'm teaching, I don't tend to spend very much as I'm usually buried in work and I have less free time to go out shopping and socialising etc. To ensure that I can still go out and have fun, I've decided to look at my weekly food shop and find ways to cut back. This has involved a lot of time in the kitchen making recipes from scratch, for example I've recently made Jam Doughnuts, a Seafood Risotto and a delicious vegan Aubergine Curry. I then can't be tempted to buy lots of expensive gluten free treats in the supermarkets! This week I came up with a cheap, easy meal, which mostly uses up leftover veggies from the fridge to combat food waste while saving money. I also really love fishcakes, but having spent a long time as a vegetarian, I decided to come up with a tasty, veggie alternative.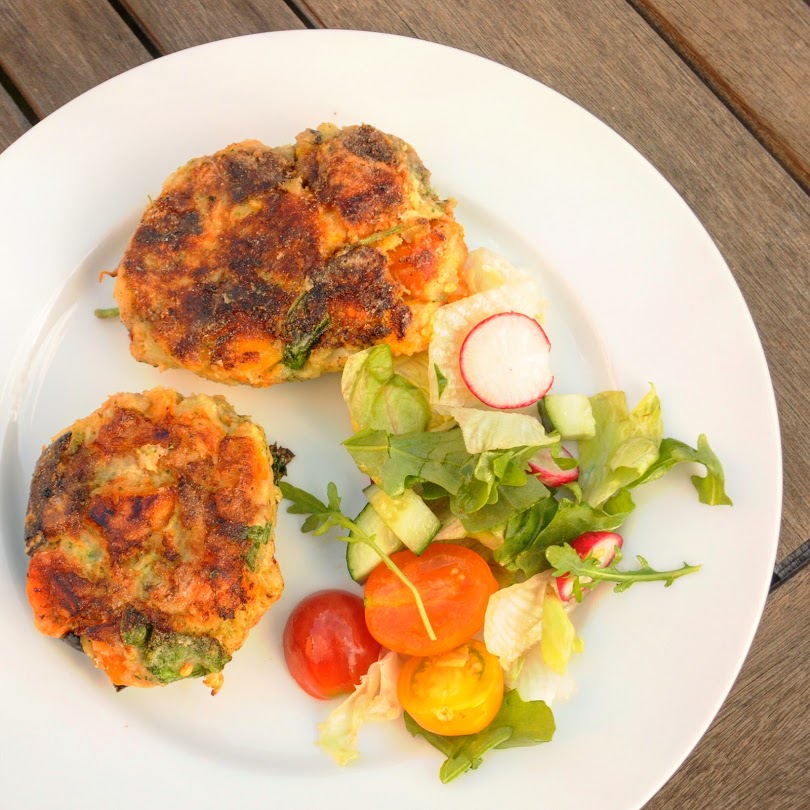 For the recipe below, I actually purchased the prepared butternut squash and sweet potato from Sainsbury's. I used two 300g packs which can be placed in the microwave to cook. Not so eco-friendly, but saved a bit of time. Alternatively if you have more time you could roast a whole butternut squash and a couple of sweet potatoes to add to the cakes instead. I will certainly try this next time!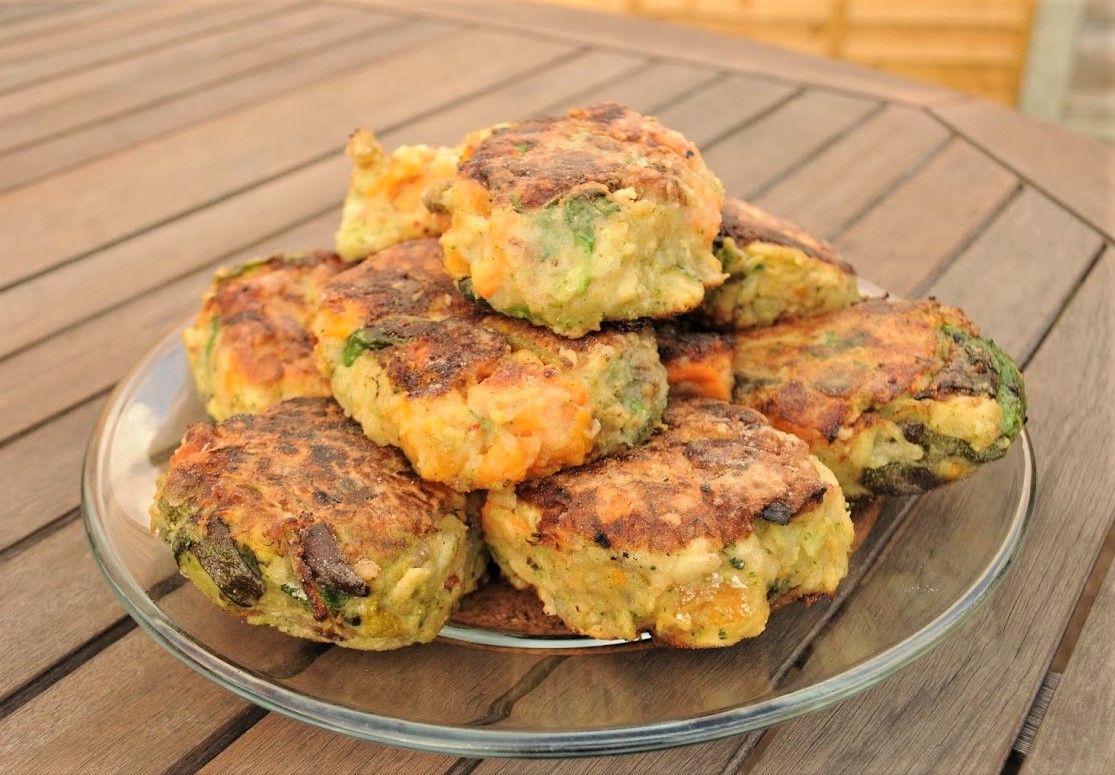 Crispy Vegetable Cakes
Ingredients
4 Potatoes
1 Aubergine
1 Courgette
300g Butternut Squash
300g Sweet Potato
6 Broccoli Florets
50 g Baby Leaf Spinach
2 Eggs
1 tbsp olive oil
30 g Gluten Free Plain Flour seasoned with black pepper
2 tsp Chilli Flakes
2 tsp Paprika
10 g Chives (Finely Chopped)
Instructions
Begin by preparing and pre-cooking all of the vegetables for the cakes. Slice the aubergine and courgette in half and roast in the oven Gas Mark 6 (200 degrees) for 20 minutes. Dice the potato, sweet potato and butternut squash. Steam the the sweet potato and butternut squash in the microwave for 5 minutes or until soft (this can also be done on the hob).

Boil water and add your potatoes. After 10 minutes add the broccoli. Mash the potato and the broccoli together once cooked.

Once all of the vegetables are cooked, chop the aubergine and courgette into smaller chunks, place into a large bowl and season well. Add the spinach, chilli flakes, paprika and chives and gently stir to mix all of the vegetables and spices together.

Using your hands (be careful if the veg is still hot) form small patties to dip into the beaten egg. Next coat these in gluten free flour and fry in a little oil. These will need a few minutes on each side, until all of the flour has gone crispy.

This recipe serves 4 people, and makes approximately 12 vegetable cakes.
Here I've just suggested a vegetable combination to suit my taste and to follow the low FODMAP diet, however you can substitute the vegetables to whatever you like or have left in the fridge, and add more/less spice too. I'm tempted to add cumin next time as it worked really well in my Squash, Spinach & Goat's Cheese Pie. Serve with a colourful summer salad.
As always let me know if you give this recipe a try, you can find me on Instagram, Facebook or Twitter, or just drop a comment below!
Alice x