Day 4 (I think) of social distancing, and after taking a few days to adapt to a new routine of working from home, walking the dog and trying to get a few home DIY/cleaning jobs done, I finally got round to some baking!
If you're struggling with motivation at home due to the indefinite amount of time spent indoors, I strongly recommend a little baking session. I was feeling uninspired, suffering from headaches and just generally lethargic, and since baking, I've had the chance to eat delicious cupcakes in the garden with a cup of tea, I've been on long dog walks with Louis, caught up on school work and I'm now writing up a blog post! I mean, this will only be effective if you actually like baking, but as you follow my blog, I'm hoping that you do!
With the limited supplies in food shops at the moment, I am trying to use up what I have in the cupboards or in the fridge. As I had a big bag of carrots and some leftover oranges, it made sense for me to make carrot cupcakes with a zesty orange kick. I absolutely love carrot cake as it's always moist and light, with a unique flavour, and it goes so well with orange and cinnamon!
The recipe below makes 12 zesty orange and carrot cupcakes, perfect for sharing, or for working your way through with endless cups of teas and a good Netflix series (I'd recommend the Tiger King if you haven't seen it yet – weird yet fascinating!)
Carrot & Orange Cupcakes
Ingredients
200 g Gluten free self-raising flour
150 g Carrot (grated)
½ Orange zest
½ tsp Cinnamon
1 tsp Baking powder
150 ml Cooking oil (sunflower is best, but I used olive)
2 Eggs
150 g Light brown sugar
For the icing:
250 g Icing sugar
100 g Butter
½ Juice and zest of an orange
Instructions
Preheat the oven to 180 degrees or gas mark 4. 

Place all of the ingredients into a large bowl and mix well.

Line a cupcake tin with 12 cases.

Add the cupcake mixture to each cake case until it is ¾ full.

Bake the cupcakes for 20-25 minutes.

Place the cupcakes on a rack to cool and make the icing.

Mix together butter and icing sugar with the zest and juice of half an orange.

Pipe onto the cupcakes and decorate with a sugar carrot (optional).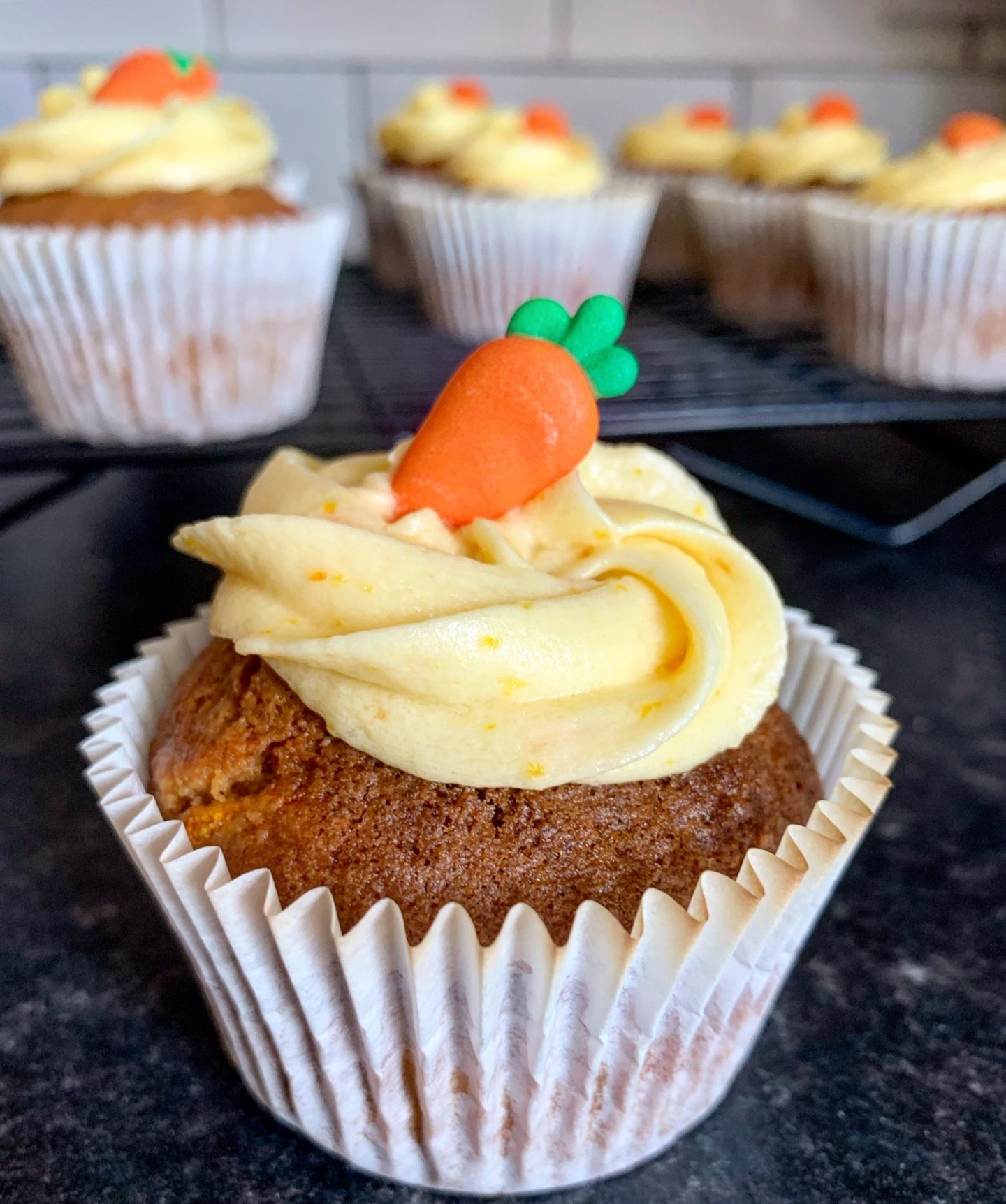 I hope you enjoy making these carrot and orange cupcakes, and that they inspire you to bake even more! I'm already planning my next kitchen session, I'm going to make the most of the time at home to create more delicious low FODMAP recipes.
As always, let me know if you give these cupcakes a try, I love to see how your bakes turn out.
Alice x