The clocks have gone back and it's suddenly feeling very cold and autumnal. The milder weather always makes me crave a warm bowl of hearty soup, and with all the pumpkins on sale at the moment, I thought I'd make a tasty Pumpkin and Bacon soup for the Halloween celebrations ahead.
I have fond memories of pumpkin soup as we used to have a bowl on Firework's night, sat around the bonfire, before a garden fireworks display! Except me and my cousin used to be frightened of them so we'd watch them through the window!
This recipe is gluten free, lactose free and of course free from onion and garlic making it suitable for a low FODMAP diet. The low FODMAP stock cubes I use are called Massel 7 and can be purchased from Amazon (AFF link). I always buy them in bulk as they have a long date, and I use them a lot.
Pumpkin & Bacon Soup
Ingredients
1 kg Pumpkin (diced)
¼ tsp Asafoetida
½ tsp Sage
¼ tsp Chilli flakes
60 ml Lactose-free cream
500 ml Vegetable stock (low FODMAP)
100 g Pancetta (cubed)
Instructions
Heat a little oil in a saucepan then add the pumpkin to soften for 5 minutes.

Add the asafoetida, sage and chilli flakes, stir and pour in the stock.

Simmer for a further 10 minutes or until the pumpkin has softened.

While the soup simmers, toast the pumpkin seeds in a pan for a few minutes.

Stir in the lactose-free cream.

Blend the soup until smooth in a food processor or by using a hand blender.

Fry pancetta and sprinkle into the soup, and serve with a topping of pumpkin seeds.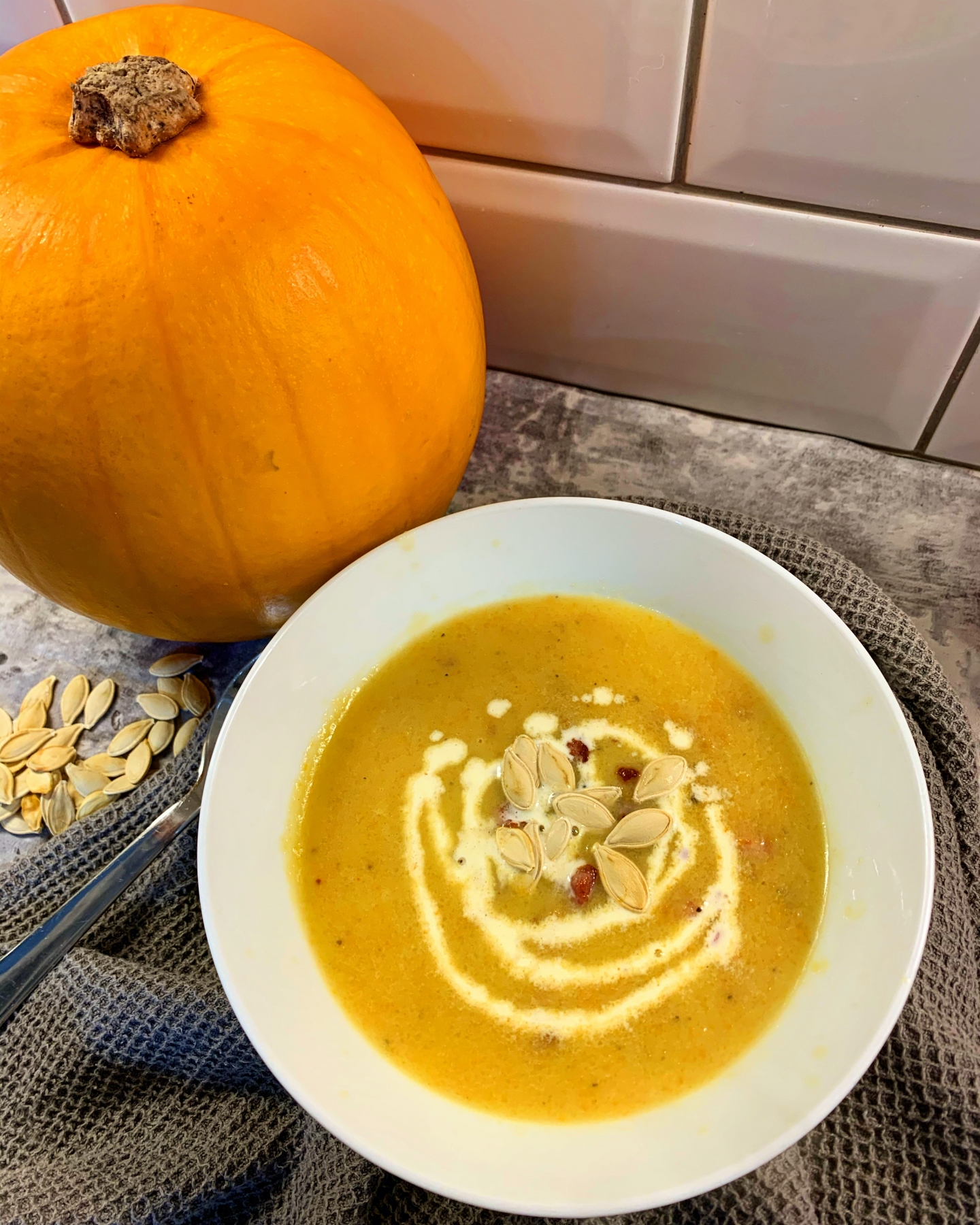 This recipe makes plenty of soup, so it can be stored in the fridge and reheated the following day.
As always, let me know if you give this recipe a try, I'd love to see how your soup turns out! I hope you all have a happy Halloween, and keep an eye on my blog, I have a couple more recipes coming up this week!
Alice x