I recently watched a programme on BBC One all about orangutans – my all-time favourite animal! Sadly the programme was about the dramatic decline of this endearing species, which could result in them going extinct in our lifetime. The programme was called 'Red Ape – Saving the Orangutan', and unfortunately it's no longer on BBC iplayer but there are a number of clips on their website or on youtube if you're interested in watching it. It has its highs (babies travelling round the orangutan nursery in wheelbarrows!) and its lows (families separated, injured orangutans caught up in deforestation and the devastating truth of the population decline), but it's definitely worth a watch.
I've also just watched the banned advert by Iceland, created in collaboration with Greenpeace, sharing the plight of these endearing animals, you can watch it here.
Orangutans are on the critically endangered species list, as they are only found on two islands: Borneo and Sumatra (with 85% found on the island of Borneo). Their home, the rainforest, is being destroyed at an unprecedented rate due to the production of palm oil. I think the most frustrating part of this is that palm oil is found in so many supermarket foods, and it is often purchased without consumers even realising it's there, despite the harm it causes. The orangutan decline has been written about widely, for example in this article by BBC News from February: '100,000 orangutans killed in 16 years'.
By writing and sharing this blog post, I hope to not only raise awareness of the importance of avoiding palm oil, but also to promote products that do not contain it, so that we can make ethical, informed decisions when buying free from products from the supermarket. I think that now my choices are restricted for following the low FODMAP diet, I've begun noticing how many products do actually contain palm oil. I actually feel cheated, that in order to support my gut, I'm resorting to buying products which destroy the habitats of these incredible primates. Since starting this post, I've seen more scientific evidence of the risk to orangutans as reported by The Independent: Chimps and orangutans among species in danger of being wiped out in imminent mass extinction of primates, scientists warn.
I've therefore written a list below (which I will no doubt continue adding to!) of products which do not contain any palm oil. I've also highlighted products which contain sustainable palm oil (RSPO certified which protects primary forests).
Since starting this post (I've been adding to it for a little while!) I saw an article which gave me a slightly different perspective on the matter. While we do need to avoid palm oil, using sustainable palm oil is actually better for the environment than other vegetable oil alternatives: Palm Oil: Are your beauty products killing the orangutans? So really, we just need to be mindful about what we buy, and find alternatives where available.
Please note that I researched this list myself, and I have not found out whether they include hidden palm oil in the vegetable oil or fat ingredients.
Product List – do not contain palm oil, fat or stearin
Sweet Freedom (choc pot, choc shot etc.)
Some Schar products, listed below:
– Wholesome white loaf
– White ciabatta rolls
– Brown ciabatta rolls
– Grissini breadsticks
– Pizza base
– Lactose-free margherita
– Crispbread
– Viennese biscuits
Prewetts Rich Triple Chocolate Cookies
Genius Gluten Free Crumpets
Genius Gluten Free Pancakes
Genius Gluten Free Pitta
Genius Gluten Free Plain Bagels
Prewetts Chewy Oat & Raisin Cookie
Nutribrex Wholegrain Sorghum Cereal
Kallo Organic Dark Chocolate Rice Cake Thins
Quorn products
Sainsbury's Deliciously Free From Dark Chocolate Ginger Cookies
Sainsbury's Deliciously Free From Triple Chocolate Cookies
Sainsbury's Deliciously Free From Chocolate Brownies
Warburtons Gluten Free Products
Mrs. Crimble's Gluten Free Jam Coconut Rings
Bounce products
Sainsbury's Deliciously Free From Chocolate Muffin
Sainsbury's Deliciously Free From Blueberry Muffin
If you find any other products free from palm oil, please do let me know and I will continue to update this list. 
Nairn's state that they use sustainable palm oil (about sustainable palm oil), and that there is currently not a suitable alternative for making their products. Lazy Day Free From and Trek Bars also use sustainable palm oil.
I do have a list of products which do contain palm oil, however I don't want to name and shame brands. Following a low FODMAP diet is restrictive, and sometimes alternative ingredients can be tricky to come by, or can affect the product. This post is just to make us more mindful when shopping and highlight the importance of choosing sustainable palm oil. How could you not want to save this face…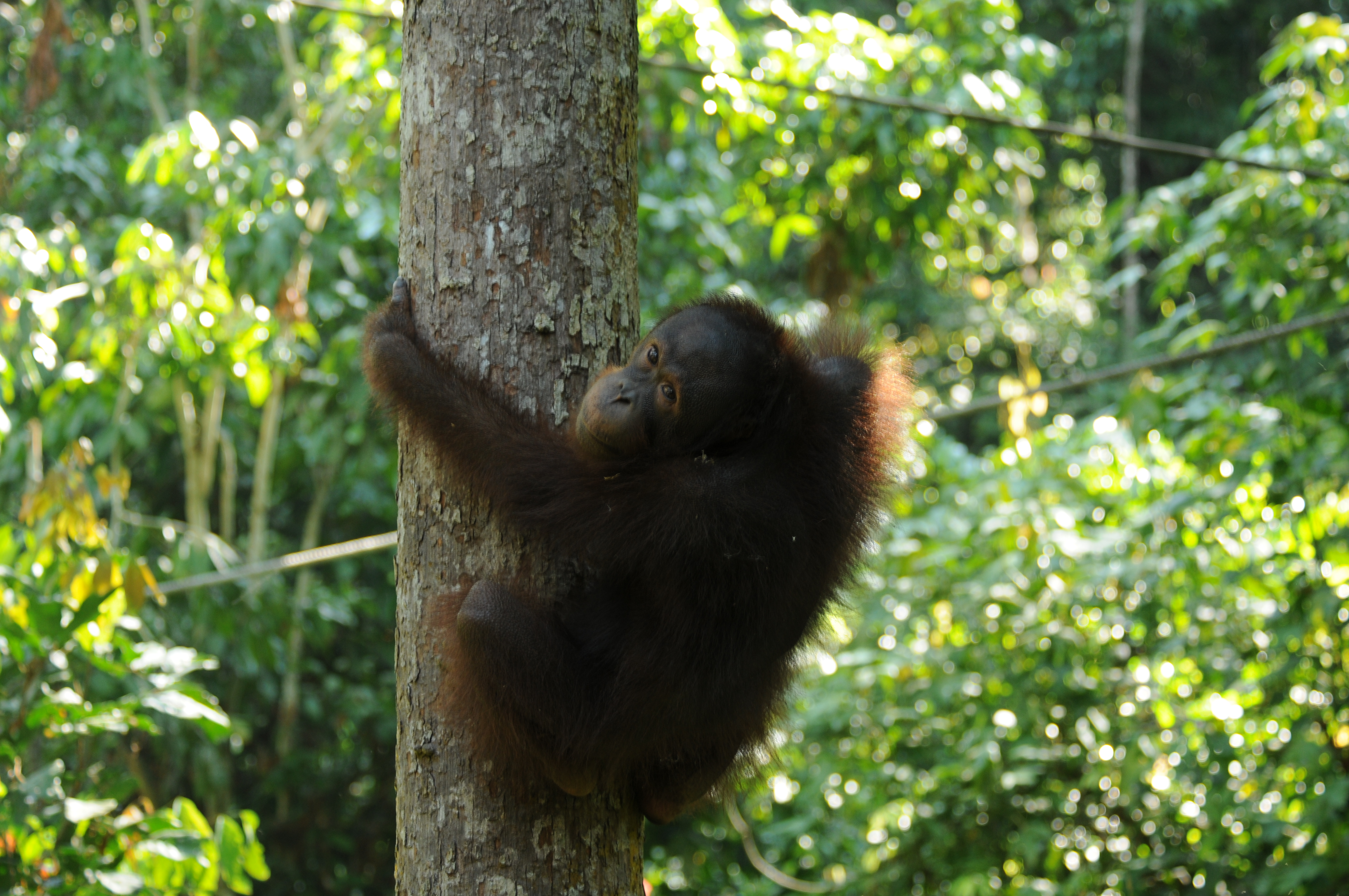 For anyone interested I thought I'd share a little background to my interest in orangutans… I actually have an honours degree in Zoology from the University of Reading which stemmed from my innate love of wildlife. I chose to study at Reading as they offered a trip to Borneo in the third year. Despite really wanting to go, I hadn't quite thought through the fact that I'd need to find £1,500, which as a student wasn't possible!
After graduating back in 2012, I worked for two different wildlife travel companies in a number of roles. As I progressed from reservations assistant to operations assistant and eventually product assistant, I was fortunate to travel to a number of countries, including Borneo! This was my once-in-a-lifetime trip, not only because I stayed in the most incredible lodges (Sepilok Nature Resort, Sukau Rainforest Lodge & Borneo Rainforest Lodge) but it was where I was actually able to observe orangutans in the wild with one of my oldest friends. I was also extremely lucky as I was able to visit the Sepilok Orangutan Rehabilitation Centre near Sandakan to see the orangutans which would eventually be released back into the wild. Here I also had a night walk where we visited the younger orangutans, who were very intrigued by us (and pillowcases!) An experience I will never forget.
While I can appreciate not everyone has a fascination with these mammals, I hope that it makes us all think a little more when shopping, particularly as the free from ranges continue to expand in size and popularity.
At the time of my trip, I was really into my photography too, so if you're interested I've shared some of the wildlife highlights from my trip below…
Alice x