AD
When trying to eat low FODMAP, I find one of the hardest meals to replace is dessert, as let's face it – dairy products are just so good! I have however found a way that we can enjoy our desserts once again! Lactojoy is a lactase supplement which enables those of us with IBS or food intolerances to enjoy lactose without the discomfort that usually follows afterwards. I have tried these tablets on a number of occasions and I've found I'm able to enjoy dairy again, without the worry I'm going to be suffering for it!
Lactojoy is made from natural ingredients; lactase enzyme, potato starch and a plant-based release agent. The supplements are therefore vegan, gluten free, fructose free, histamine free and of course lactose free. As you cannot take too much lactase, they contain a high dose to ensure you can enjoy a dessert. That's why I've decided to share a recipe for an Eton Mess Cheesecake now that I can enjoy a slice without the tummy issues!
My Eton Mess Cheesecake is gluten free and incredibly tasty. Perfect for a summer dessert in the garden. To enjoy a slice. take a Lactojoy tablet before eating to avoid any unwanted IBS symptoms. On three occasions I was able to enjoy a slice of cheesecake without suffering with my guts. Living the DREAM! To make your own. scroll down for the recipe below.

Eton Mess Cheesecake
Ingredients
160 g Gluten free digestives
80 g Butter
300 g Quark (or cream cheese)
300 ml Double cream
80 g Icing sugar
1 tsp Vanilla extract
100 g Fresh strawberries
To decorate:
3 Egg whites (medium)
150 g Caster sugar
Fresh strawberries
Instructions
Crumble the digestive biscuits (or blitz them in a food processor) until they form small crumbs.

In a saucepan, melt the butter then remove from the heat and stir in the crumbled digestive biscuits.

Press this mixture into a 20cm tin (I use one with a removable base) until it covers the base.

In a bowl, mix together the quark, icing sugar and vanilla extract.

Lightly whip the double cream and mix into the quark mixture.

Add finely chopped strawberries and gently stir into the mixture.

Spoon onto the biscuit base and smooth with a spatula. Place in the fridge for at least 3 hours or overnight.

To make the meringue kisses, whip the 3 egg whites until they form a foam-like consistency.

Add the caster sugar and continue to whisk until the mixture forms stiff peaks.

Using a piping bag, cut a small hole then pipe onto baking paper. To create the shape squeeze gently then pull up and away to create the swirl. Bake at gas mark 2 or 150 degrees, Once they've cooked, leave them in the oven to ensure they aren't sticky.

To decorate your cheesecake, use fresh strawberries and meringue kisses in a pattern, then crumble on e of the meringues for the Eton 'Mess' effect! Then take your Lactojoy, cut a slice and enjoy.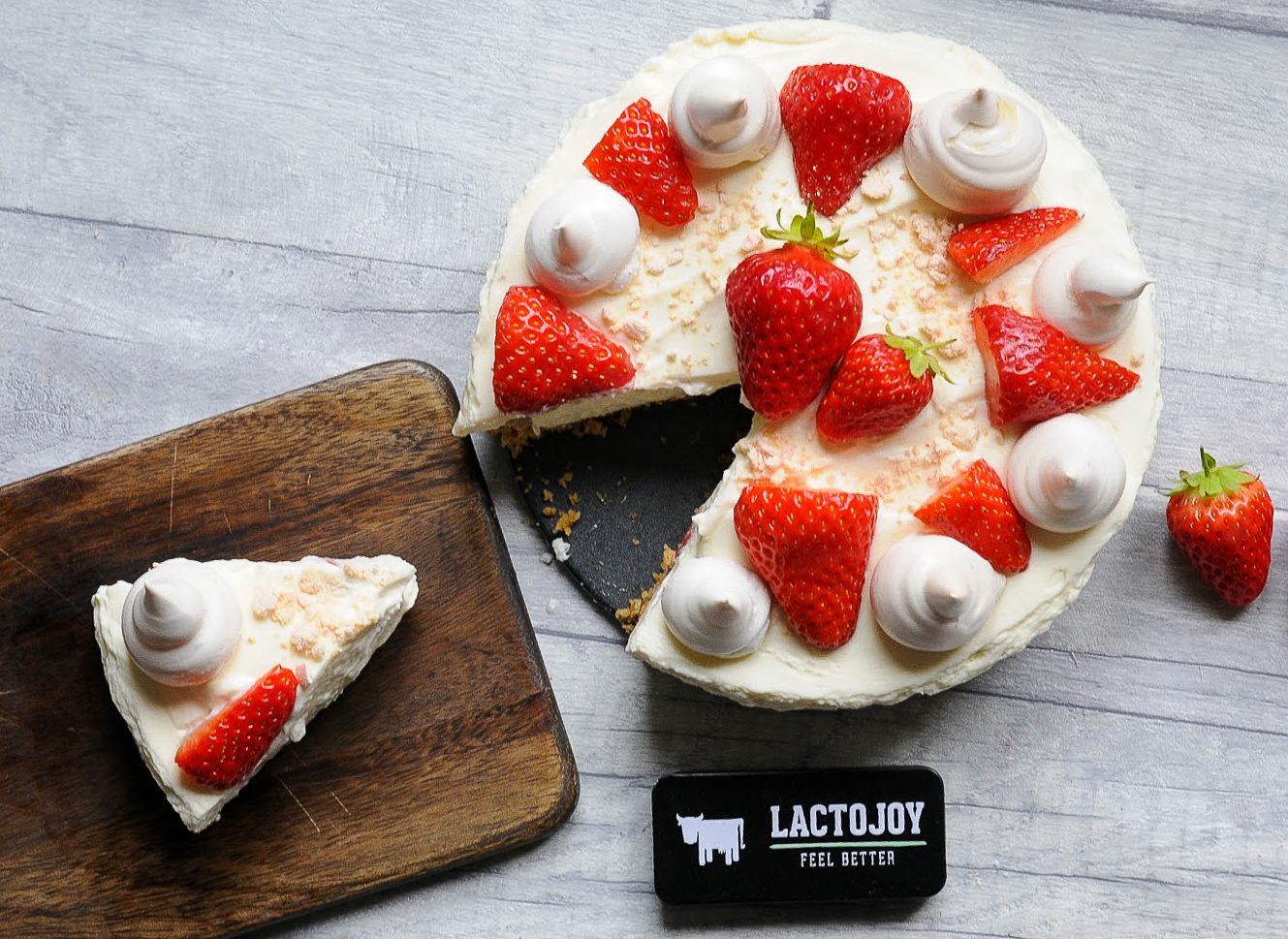 I hope you enjoy this recipe, and other dairy recipes too with Lactojoy. Let me know if you give it a try.
Alice x
This is a sponsored post in partnership with Lactojoy #feelbetter