During the half term, which already seems like so long ago, I received a huge parcel from Mash Direct with a selection of their low FODMAP products. The package also contained branded pens, pencils, a tea towel and an apron, which I was pretty pleased about. Stationary is always handy as a teacher, and you can never have too many tea towels or aprons, especially for the amount of time I spend in the kitchen!
Having researched Mash Direct, I've found out that they're a family business, which has grown from six generations of farming in Comber, Northern Ireland. Beginning with just 70 acres, they now expanse 1,400 acres of fields tailored to growing vegetables. These are then cooked using steam cookers, retaining the taste of fresh, home-cooked food, which can then be reheated at home in the microwave or oven. The main attraction for me is that all of their products are gluten free, including their well-known beer battered chips, which for anyone with a gluten intolerance would usually ring alarm bells!
There are also quite a few products which are low FODMAP, as they don't contain any wheat, onion or garlic. These are also low lactose, and I've listed all the suitable products below. Those in bold were included in my package (please note they do have a number of cheesy/creamy vegetables which some may be able to tolerate on the low FODMAP diet which I haven't included):
– Carrot & parsnip fries
– Carrot & parsnip mash
– Mash pot (potato, carrot, parnsip & bacon)
– Mashed potato
– Mashed swede
– Mashed Turnip
– Neeps and tatties
– Beer battered chips
– Potato croquettes
– Sweet potato croquettes
– Roast potatoes
– Sweet potato fries
I've now tried each of the products sent in my box, and have reviewed them below, along with what I tried each of them with.
Carrot & parsnip mash & beer-battered chips served with low FODMAP sausages:
Firstly, I just want to say that the beer-battered chips are AMAZING. I've tried my fair share of chips, and these are so crisp, yet fluffy with a really rich meaty flavour. Imagine pub-style triple-cooked chips that you cook in your oven for just 20 minutes. I'd really recommend them, and thankfully I was sent two packs so I could enjoy them more than once!
The carrot and parnsip mash was equally as good. The combination of carrot with sweet parsnip works really well, and complemented the sausages, for a modern take on bangers and mash.
Potato croquettes, served with pulled pork and salad:
I've recently shared the recipe for my Seasoned Pulled Pork which is a great alternative to barbecues in the summer. It has all the flavour, without all the hassle! The first time I made it, I served it with the Mash Direct potato croquettes. I was really impressed with these, not only that they're gluten free, but they are so crisp. Similar to the chips, they are also really fluffy inside.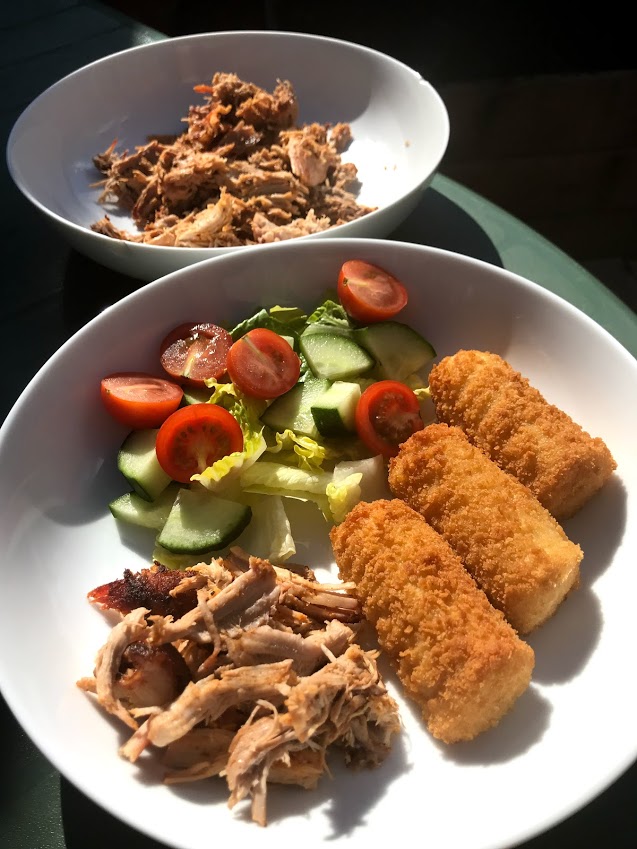 Sweet potato fries, served with a gluten free burger:
I was really pleased to be sent some sweet potato fries, as I often try to make these myself with limited success. They often go a little soggy or they burn! The Mash Direct version are great as they retain the soft sweet potato, while crisping up on the outside. They needed slightly longer in the oven than the packaging stated (I had previously frozen them so this may have affected the cooking), but they were very tasty with one of the low FODMAP burgers featured on my Low FODMAP Barbecue post, with a Schar gluten free bun.
Mashed turnip & beer-battered chips served with 28-day aged beef escalope:
Having not tried turnip before, I thought I'd pair it with the contrasting crisp beer-battered chips and some lean steak. It has a very similar taste to swede, and is low FODMAP too. I really enjoyed this meal and would certainly have it again.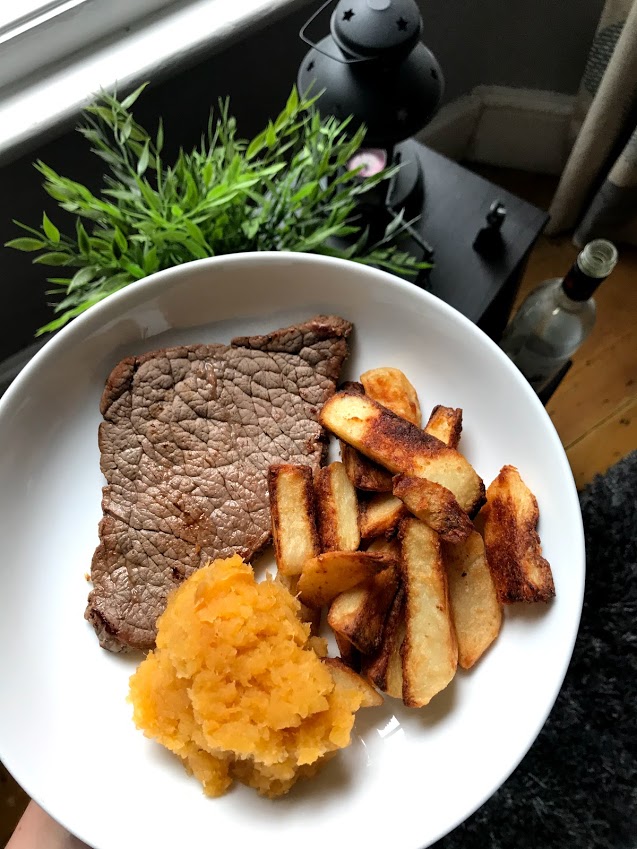 Carrot & parnsip fries, served with halloumi, avocado, tomato, quinoa and sweet potato:
This was the last item I had left, and I'd saved them to accompany my favourite greek-inspired dish of halloumi with roasted vegetables and quinoa. I usually make a low FODMAP tzatziki (lactose-free plain yoghurt, finely chopped cucumber and a drizzle of garlic-infused oil) to accompany it, but I'd ran out of garlic-infused oil! Similar to the sweet potato fries, these needed a little longer in the oven (but again I had frozen them first), but the end result was healthy sweet vegetable fries which paired well with the saltiness of the halloumi.
Mashed potato used to make a baked gnocchi dish:
I found the idea for this gnocchi on Mash Direct's website, and followed the video shared on their Facebook page. It was so easy to make and delicious – a great idea for something a little different using the mashed potato! The instructions can be found here.
Alternatively check out the story on the highlights of my Instagram page for step-by-step instructions (a preview below)…
I really enjoyed trying all of these products, so thanks again Mash Direct for sending a selection of low FODMAP products. I will definitely be buying these products again! All of the products in the box are available throughout England from Ocado, Waitrose, Iceland, Nisa Local, Budgens and Morrisons stores, also Amazon Fresh (in the London area).
Have you tried any of these products? Let me know what you thought, or if you have any meal suggestions in the comments below!
Alice x